Special Homemade Dahi Alu curry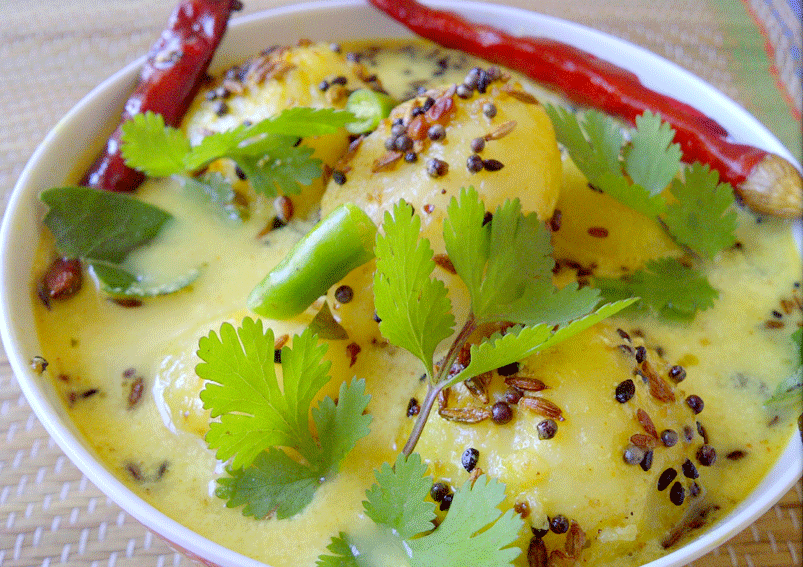 Dahi Alu curry sounds different isn't it? It is very simple, yet delicious potato curry. Its main ingredients are potato and curd gives a creamy touch. If you like sour food, then it is the best recipe for you.
Ingredients
400 gramsPotato (boiled)
1-2Green Chilies (chopped)
1 tablespoonOil
½ teaspoonCumin seeds
2 Pinches ofAsafoetida
½ teaspoonRed chili powder
½ teaspoonTurmeric powder
1 cupSour curd/ yoghurt
½ cupwater
2 tablespoonsCoriander leaves (chopped)
Saltto taste
Directions
Peel and cut potatoes into small pieces.
Beat the curd or yoghurt.
Add water in curd or yoghurt and keep aside.
Heat oil in a pan.
Put cumin seeds, asafetida, turmeric powder, green chilies and red chili powder.
Mix well and fry for a few minutes.
Now, put potato pieces and salt, keep frying.
Now add yoghurt into it.
Make sure to keep stirring while adding yoghurt.
Continue stir till first boil comes.
After first boil, low the heat and cook for 10 minutes.
Garnish with chopped coriander leaves.
Serve hot.
You can add more water if you want less thick gravy. Serve it with roti, paratha or rice as well.
-Nandini Chauhan
This Recipe Rate :
(0) Reviews