Fried Ramen Noodles and Eggs Recipe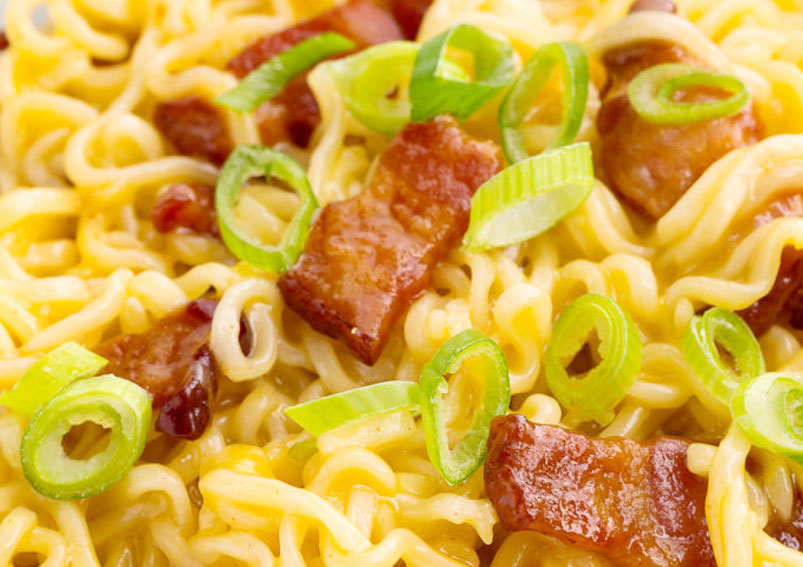 Fried Ramen and egg recipe is a quick and delicious food. This work great for any meal of the day, breakfast, lunch or dinner. Crispy bacon and spicy eggs add an excellent taste to this fried ramen.
Here is the recipe of a Fried Ramen Noodles in a step by step process:
Ingredients
2Ramen packs
1/2 cupSlice bacon, chopped
3Eggs
1 cupCheddar cheese
1/2 cupScallions, sliced
1/2 cupSauce
1 tbsOlive oil
1/2 cupGround pepper
Directions
Boil noodles according to the instructions on pack.
Drain noodles, top with oil, so it don't stick each other.
Keep aside 1/4 cup of stained water to loosen sauce, if needed.
Heat a pan on medium flame. Cook bacon pieces until it changes color and get crisp.
Add noodles in the pan and add fried bacon pieces.
Turn off the flame.
In a bowl, beat eggs and add 1/2 tbs of cheese and mix it well.
Pour egg-cheese mixture in the pan and toss with bacon and noodles.
Simmer it for few minutes and switch off the flame.
Now fried ramen noodles are ready to eat.
Finally, garnish with scallions, ground pepper and serve it with a sauce.
Check for more brunch recipes.
- Moses
This Recipe Rate :
(0) Reviews