Ragda Pattice Recipe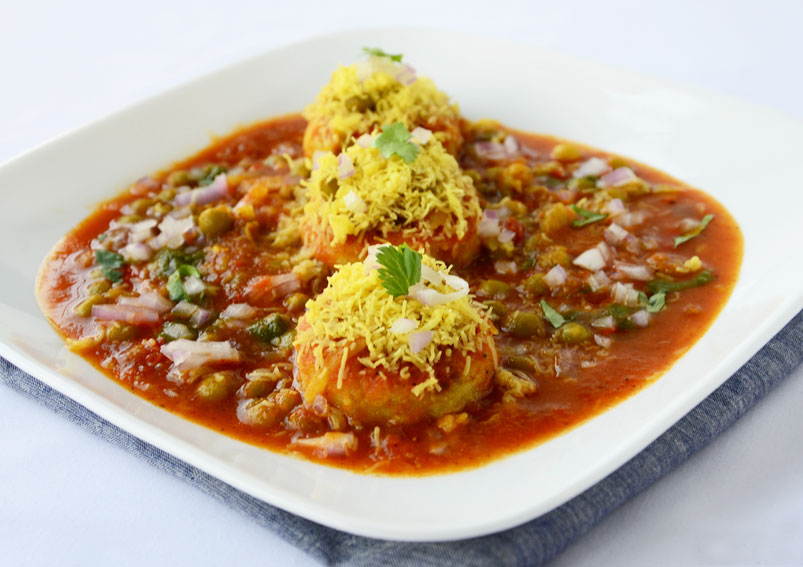 Ragda Pattice is everyone's favorite chaat and is a very popular recipe from the streets of Mumbai and also a popular breakfast dish from Marathi cuisine.
Potato cutlets are topped with ragda, dried peas and garnished with some chopped vegetables like carrot, onion, tomato etc.,
Here comes a favorite chaat recipe of a Ragda Pattice in a step by step process.
Ingredients
to tasteSalt
1 cupPeas
3Potato
2 tbsFresh brown breadcrumb
2-3Green chillies, chopped
as requiredSaffola oil
as requiredGreen chutney
2Onions, chopped
2 tbsChaat masala
2 tbsFresh coriander leaves, chopped
1Tomato, chopped
1Carrot, chopped
Directions
Soak dried peas in three cups of water for about six hours.
Drain peas and boil it in four cups of water with turmeric powder, hing and salt till it gets soft.
Smash the peas slightly. Add a little quantity of water and simmer it for ten minutes.
Meanwhile, wash and boil potatoes.
Smash potato's after boil.
Add breadcrumb, green chilies, and salt to potatoes and mix well.
Divide into equal portions and shape into balls and fatten slightly.
Heat oil in a non-stick frying pan and fry the pattice gently on both sides on medium flame till color changes to brown.
Place two patties on a plate and pour prepared ragda on them. Finally, garnish with little green chutney, sweet date, tamarind chutney, chopped onions, chaat masala and chopped coriander leaves, that makes the dish spicy and tasty, serve it immediately without late.
Check for more snacks
- Moses
This Recipe Rate :
(0) Reviews