Roasted Vegetable and Oat Salad with Feta Cheese Recipe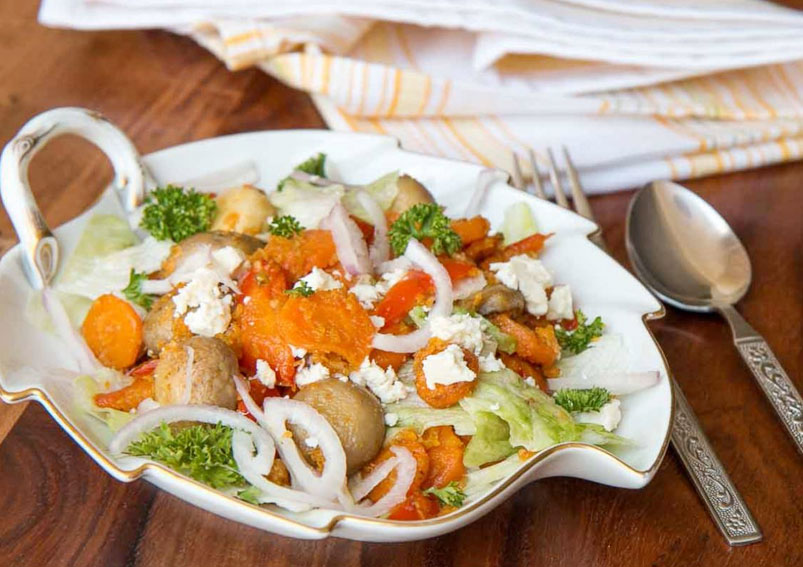 Vegetables and Oat Salad with Feta Cheese is a healthy and quick recipe to make and this salad make a wholesome meal for lunch or dinner. Oat salad is a combination of vegetables and feta cheese which are rich in nutrients and fiber.
Here is the recipe of Roasted vegetables and oat salad with feta cheese in a step by step process.
Ingredients
200 gramsLettuce leaves
250 gramsButton mushrooms
2Carrots, cut into rounds
80 gramsSaffola peppy tomato oats
1/2 teaspoonLemon juice
1 teaspoonMustard sauce
1/2 teaspoonSaffola oil
2 tablespoonsFeta cheese, crumbles
1/2 cupParsley, chopped
To tasteSalt
1 tbsCrushed black pepper
Directions
Wash vegetables and finely chop in medium sizes.
Rinse and dry vegetables for roasting.
In a pan, fry all the chopped vegetables (except lettuce) , let it cook for sometime till it changes color.
Meanwhile roast oats in a pan.
Don't add salt while roasting, as the oats has a lot of salt in them.
The oats get lightly cooked.
Once the vegetables and oats are roasted, turn off the heat and allow them to cool completely.
Take a large mixing bowl, add roasted vegetables and lettuce.
Add lemon juice, pepper, mustard sauce and chopped parsley.
Mix well to combine.
Serve the Oat Salad along with feta crumbles on top for a wholesome dinner along with warm toasted bread and soup
Check for more salads.
- Moses
This Recipe Rate :
(0) Reviews