Bread Gulab Jamun recipe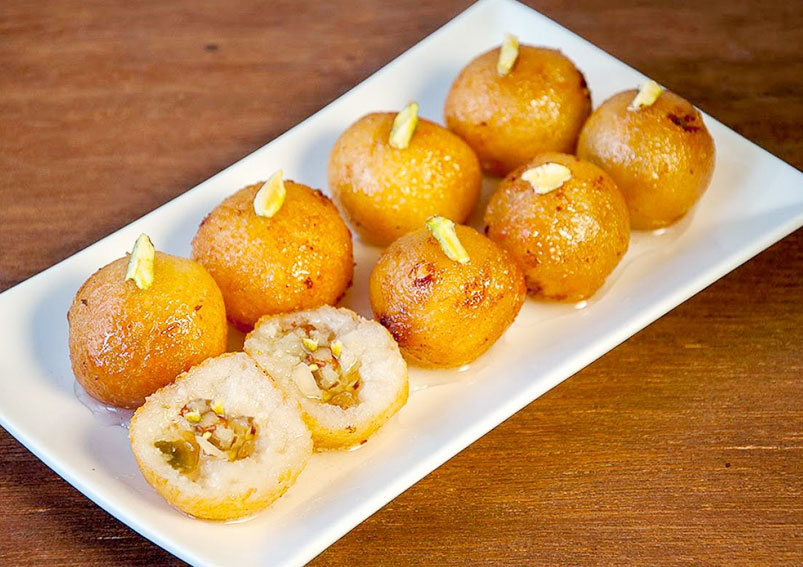 Bread Gulab Jamun recipe is another instant recipe made by using bread. The bread can be used to make various recipes like cutlets, double ka Meetha, etc,. Bread is a tasty ingredient to make various yummy delicacies and recipes.
Bread Gulab Jamun recipe is made by using bread as a main ingredient. Milk powder and khoya gives a delicious and amazing taste to it. See the recipe making process or instructions in a step by step:
Ingredients
For sugar syrup:
1 cupSugar
2 cupsWater
3Cardamoms powdered
For gulab jamuns:
4-5Bread slices
2-3 tbspMilk
for deep fryingoil
Directions
For gulab jamun sugar syrup
Take a pan, add water, sugar and bring it to boil on a medium flame.
Add cardamom powder and boil the syrup until it turns sticky.
Once the syrup is done, keep it aside.
For bread gulab jamun
In a plate, take bread slices and remove its corners.
Crush the bread to make crumbs.
Add milk to the bread crumbs and knead it to make a dough.
Take small portions of the dough into palms and make round balls.
Take a pan, add oil for deep frying and heat the oil on a medium flame.
Drop the gulab jamun balls into oil and deep fry them until they changes color to brown.
Cook apricots on medium flame until it get soft texture.
Take out the gulab jamuns from oil and place them on a paper towel to remove excess oil.
Drop them immediately into the sugar syrup.
Rest the balls into the sugar syrup until it absorbs.
Now, they are ready to serve.
Finally, bread gulab jamun's are ready to eat, garnish with some pistachios or cashews for extra flavor. It can be stored in a refrigerator for about two - three days.
Check for more Sweet recipes.
- Moses
This Recipe Rate :
(0) Reviews