Delicious Egg Paratha recipe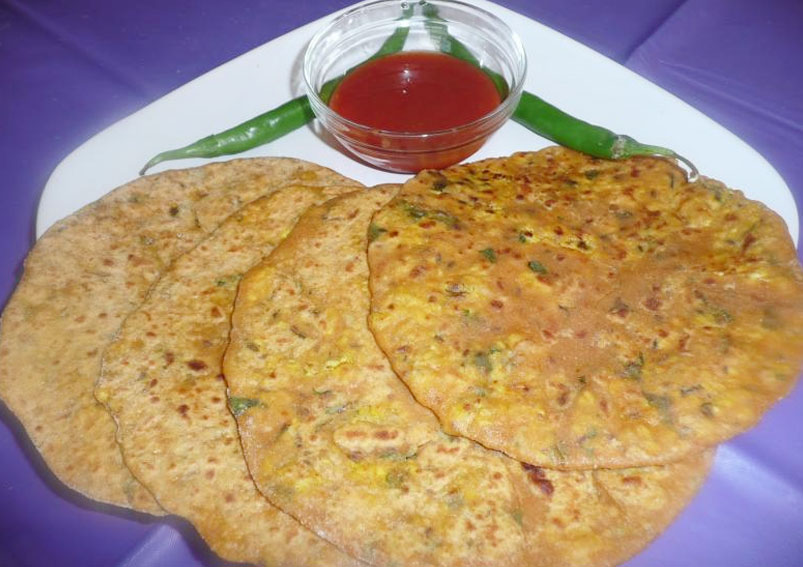 Egg paratha is an Indian bread recipe with spicy egg stuffing. Paratha recipes are quite common in North India and parathas take in different stuffing and in different style of making.
The egg paratha is made by using wheat dough and then the stuffing used is a spicy egg mixture which is spread over paratha and then cooked to perfection. These paratha made with egg can be served for breakfast or lunch. Check out the recipe process underneath.
Ingredients
Dough to make paratha
2 cupsWheat flour/atta
as per tasteSalt
1 tspGhee/oil
1 cup waterTo make dough
To make the stuffing:
1 medium sizeOnion, very finely chopped
2 tspCoriander leaves, freshly chopped
1 tspGreen chilies,finely chopped
2Eggs, beaten
to tasteSalt
1/2 tspRed chili powder
1/2 tspTurmeric powder
Directions
To make dough
Take a bowl, add wheat flour, pinch of salt, ghee/oil and mix it well.
Add water gradually and knead it to make a smooth dough.
Cover it and rest for 5-10 minutes.
To make stuffing:
In a bowl, add finely chopped onions, chopped coriander leaves and finely chopped green chilies.
Add eggs into the bowl.
Add salt as per taste, red chili powder, turmeric powder and mix it well.
To prepare Egg Paratha:
Take a portion of the dough into palms and make round ball.
Put some flour on the rolling pin.
Roll the dough into small circular shape.
Apply oil over paratha.
Fold paratha in a way that it takes the shape of a square or rectangle.
Once again, dust some flour on the rolling pin and roll it in the desired shape.
Heat tawa or gridle on a medium flame.
Place paratha on tawa and cook for few seconds.
Add beaten egg mixture on paratha and spread it fully.
Cook for few minutes and fold paratha from one side and apply oil on the folded part.
Fold the other end too and apply oil
Cook both sides well and apply oil on the outer area and cook for a minute.
Make sure the paratha and egg mixture is cooked well.
Finally, egg paratha is ready to eat, cut it into two halves and serve it with ketchup, sauce or with any spicy curry.
Check for more breakfast recipe.
- Moses
This Recipe Rate :
(0) Reviews