How to Make Andhra Chicken Fry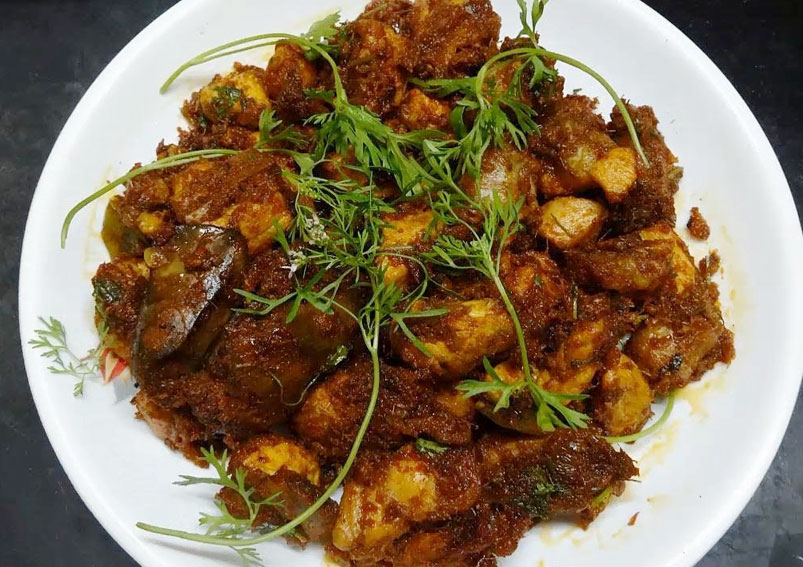 Andhra chicken fry is a spicy recipe with all dry spices and is prepared in a typical south Indian style which looks mouth watering and is a good side dish.
Chicken can be fried in various ways, but this Andhra chicken fry is close to everyone because of its spicy taste and the flavor brings out due to the different spices.
Check the recipe of Andhra Chicken fry in a step by step process.
Ingredients
500 gChicken pieces
2-3 tbspOil
4-5Vertically slit green chilies
6-7Curry leaves
4Onions, finely chopped
1 tbspGinger garlic paste
to tasteSalt
1 tspRed chili powder
1/2 tspTurmeric powder
1 tspRoasted coriander seeds powder
1 tspBlack pepper corn powder
1/2 tspGaram masala powder
2 tbspCoriander leaves, chopped
Directions
Take a pan, add oil and heat it on a medium flame.
Add green chilies, curry leaves and fry it for a minute.
Add finely chopped onions and saute until they turn soft.
Add ginger garlic paste and saute for a minute.
Add chicken pieces into it and roast them until color of the chicken changes.
Add salt as per the taste.
Add red chili powder, turmeric powder, roasted coriander seeds powder, black pepper corn powder, garam masala powder and mix well.
Roast chicken on medium-low flame for 2-3 minutes.
Keep stirring to avoid burning of the masala at the bottom.
Cover with the lid and cook chicken on low flame until it gets soft and keep checking in between.
finally, garnish with fresh coriander leaves.
Switch off the flame and serve in a bowl.
Finally, hot spicy Andhra chicken fry is ready to eat, serve it as a side dish along with rice or roti. Top with chopped onion and fresh coriander leaves.
- Moses
This Recipe Rate :
(0) Reviews