Falooda Fruit Mix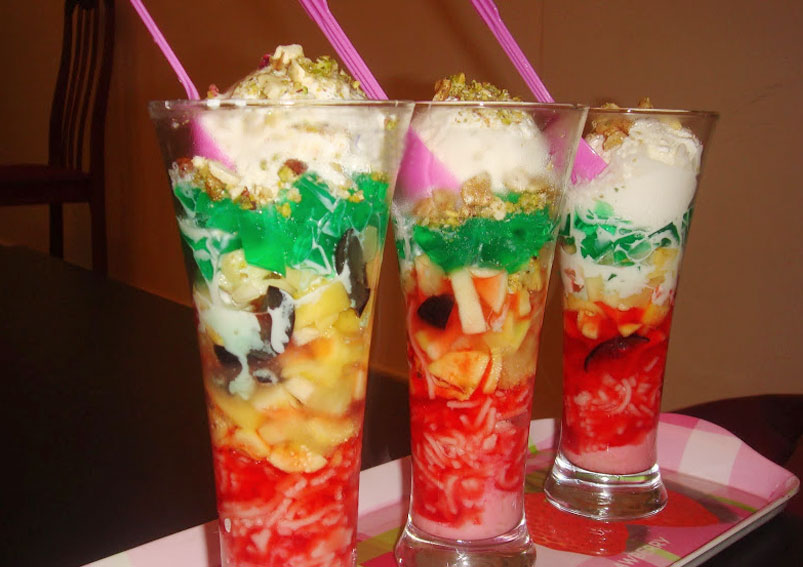 Falooda Fruit Mix is one of the delicious dessert prepared with Ice cream and mixed fruits. It is an Indian recipe served as a Dessert. It is a best coolant, colorful and popular dessert to drink.
Check the recipe of Falooda Fruit Mix in a step by step process.
Ingredients
3 cupsMilk
1/2 cupMilkmaid
1/4 tspCardamom powder
1 tbspCustard powder
1 cupSeasonal fruits, finely chopped
1 tbspSugar
2 tbspBasil seeds
1 tbsHoney
1 cupIce cream
Directions
Soak basil seeds in a bowl of water for 2-3 hours.
Take a pan, add milk and boil it on a medium flame.
Add sugar and mix well.
Add milkmaid and stir well.
In a small bowl, add some cold milk, custard powder and mix well.
Add this custard flavored mix to the boiled milk after switching off the flame.
Stir well in order to avoid lumps and switch on the flame.
Boil it for few minutes and keep stirring for couple of min.
Add cardamom powder and saute it for a min.
Off the flame and allow the mixture to cool down.
Take a glass or bowl.
In the bottom layer, add soaked sabja.
In the middle layer, add chopped seasonal fruits and ice cream.
On the top layer, add the chilled custard.
Repeat the same till the glass fills.
Fianlly, The falooda fruit mix dessert is ready, garnish the dessert with almond flakes, honey and serve it chilled.
Check for more dessert
- Moses
This Recipe Rate :
(0) Reviews