Tasty Double Ka Meetha Recipe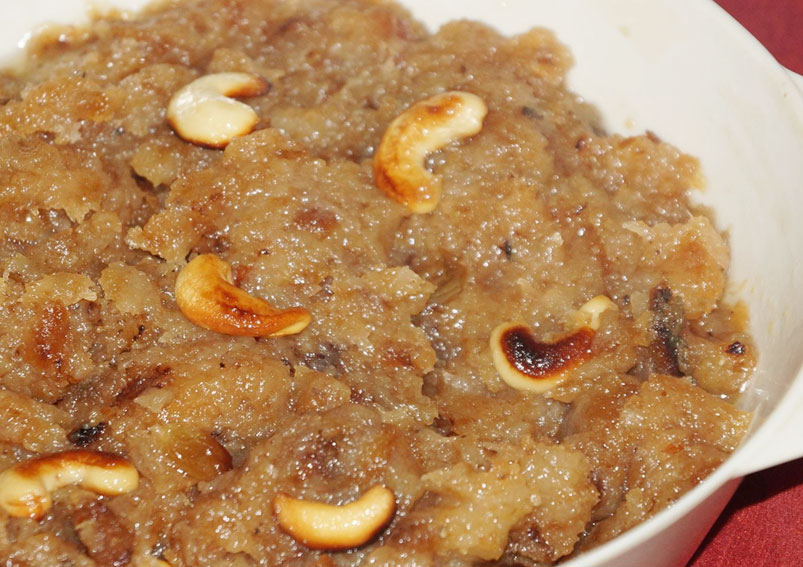 Double Ka Meetha is an authentic Hyderabad dessert which is made of bread pieces. This is one of the most common sweet which is usually served in many occasions like weddings and festivals.
It is made by frying bread, making crispy and soaking them in sugar syrup. Check the preparation of Double Ka Meetha recipe:
Ingredients
7-8Bread slices
1 tbpGhee / butter
4 cupsWater
4 cupsSugar
1-2Saffron strands
1 or 2Cardamoms
2 cupsWhole milk
For Garnishing:
2 -3 tbspGhee
1 or 2 tbspKhova
1/2 cupCashews
1/2 cupAlmonds
1/2 cupPistachios
Directions
To make Sugar Syrup
In a pan, add water, sugar, cardamom and saffron strands.
Stir well and boil syrup on low-medium flame till the syrup gets sticky.
Keep it aside and allow it cool down.
Meetha Procedure
Cut off the brown corner of the bread and then cut slices in small cubes.
Deep fry the bread slices on medium flame in ghee or butter till it changes to golden brown.
Remove the fried bread slices and dip them in sugar syrup for few seconds till the syrup is absorbed to the slices.
Don't allow them to soak for long, as the bread slices may break into pieces.
Remove every slice carefully and place them in a plate.
Pour ghee over the slices.
In a vessel, boil the milk and make it cool.
Pour boil milk over the slices.
Finally, Double Ka Meetha is ready to eat, garnish with mashed khoya and top with finely chopped cashews, pistachios, almonds on slices and serve it in a bowl.
Check for related sweets recipes
- Moses
This Recipe Rate :
(0) Reviews