Egg Pepper Fry Recipe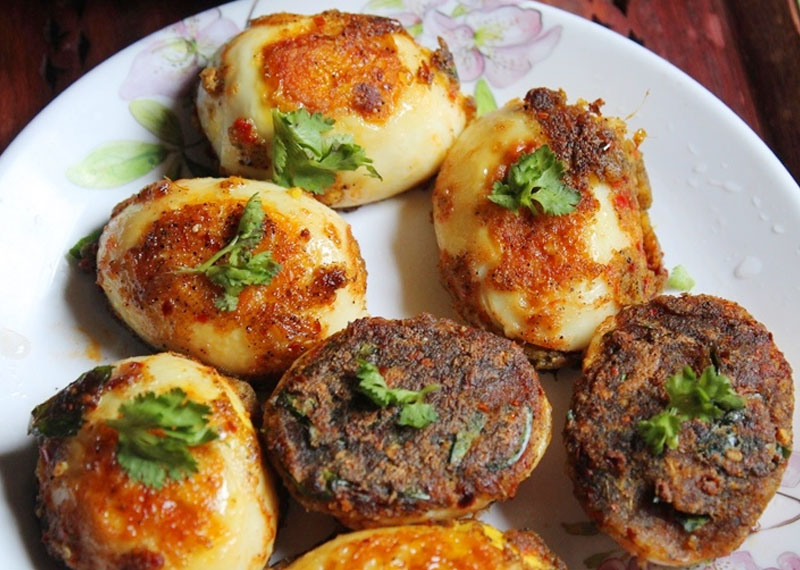 Egg Pepper Fry is a most delicious and healthy dish which can be done in few minutes. The egg pepper masala is an instant recipe and a delicious food to eat.
This healthy egg pepper fry dish goes best with roti or rice and is prepared with few ingredients. Check the preparation of recipe in a brief procedure.
Ingredients
3Eggs
2 tbspEdible oil
1/2 tspMustard seeds
2Onions, finely chopped
1 tbspGreen chilies, finely chopped
5-6Curry leaves
as per tasteSalt
1 tspRed chili powder
1/2 tspTurmeric powder
1 tspBlack pepper corn powder
1/2 cupCoriander leaves
Directions
In a bowl, add water and boil it.
Add eggs and boil on a medium flame.
After it cools, remove the shell of the egg.
Now, take a non stick pan, add oil and heat it on a medium flame.
Add mustard seeds and let them to crackle.
Add green chilies and curry leaves into it.
Add chopped onions into it and saute till it turn soft.
Add salt, red chili powder, turmeric powder and mix it.
Cut the boiled eggs into two halves and add into the masala.
Sprinkle black pepper powder over the boiled eggs.
Mix the whole mixture delicately and let it saute for few minutes on low flame.
Turn the eggs carefully and cook the other side too.
Make sure the eggs are fried and masala is coated well on both sides of the egg.
Switch off the flame and serve.
Yummy!! Egg pepper fry is ready to enjoy, top it with coriander leaves and serve with rice or roti as a side dish along with dal.
Check for more side dishes.
- Moses
This Recipe Rate :
(0) Reviews