Delicious Cheese Chilli Toast Recipe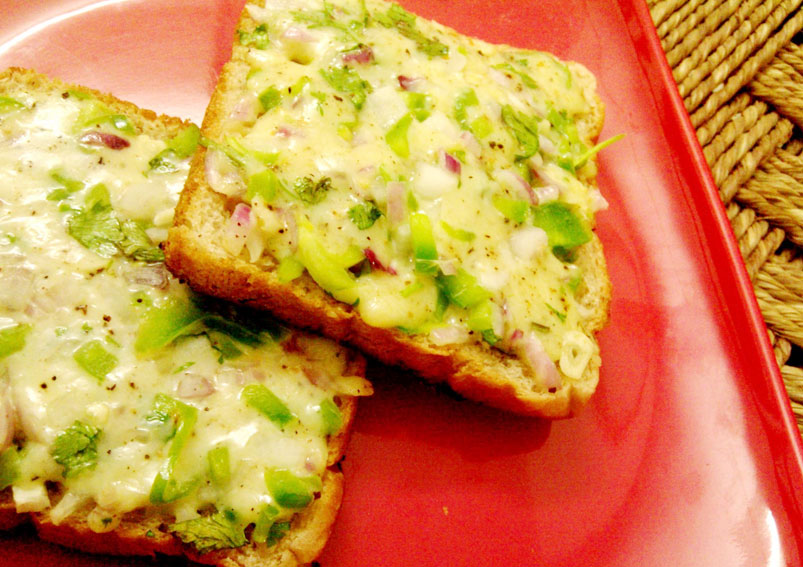 Are you looking for healthy & tasty breakfast recipes?
Here, we bring you a Simple Indian breakfast and the best ideas to add variety to your everyday breakfast.
The Healthy Breakfast menu is Cheese Chilli Toast Recipe..!! This is one of the best dish for kids, as cheese is very nutritious with a rich source of protein, carbohydrates and calcium.
Here is the process of a Cheese Chilli toast in a step by step process.
Ingredients
4 to 6Bread Slices
1 or 2Green chilly
a pinchPepper powder
¼ tspJeera / cumin powder
a pinchChat masala powder
1 to 2 tspFresh cream
¼ tspPaprika powder
2 tbspChopped tomatoes
to tasteSalt
1 tbsCheese
1/2 cupOnion, chopped
Directions
Take a bowl, add grated cheese, finely chopped green chill, pepper powder, jeera powder, salt and chat masala powder.
Add paprika powder, chopped tomatoes.
Add a tsp of fresh cream.
Mix all the ingredients well.
Now, heat a pan with a Cheese and roast the bread slightly to get golden color.
Spread the cheese mixture evenly on the surface of roasted bread.
Roast it in the pan, till you get nice color and crispy texture.
Roasted cheese chilli toast is ready to serve.
Healthy & tasty Cheese chilli toast is ready, garnish with some spring onions and serve hot with a chilli or ketchup.
- Moses
This Recipe Rate :
(0) Reviews