Yummy Moong Dal Laddu Recipe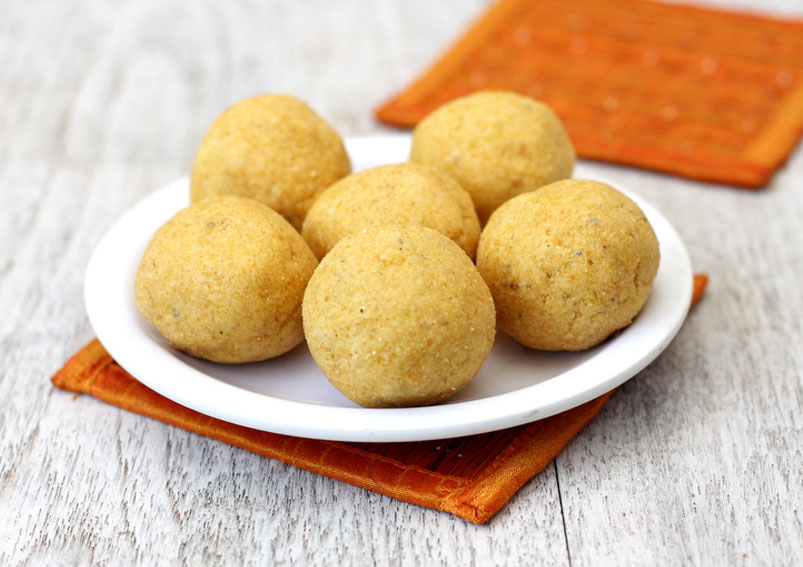 Moong Dal Laddu is a traditional Indian sweet and is easy to prepare with few ingredients. This tastes great and is rich in nutrients and proteins.
Here is the recipe of Authentic & easy to make Moong Dal Laddu
Ingredients
1 cupYellow moong dal
¾ cupSugar, powdered
5 to 6 tbspGhee
6 to 7Roasted Cashew
4Cardamom, powdered
6 to 7Raisins
Directions
Heat a dry pan, add Moong Dal and roast till it turns to golden brown in color.
Turn off flame and allow to cool.
Heat 1 tbsp of ghee and saute cashews for a minute to get a golden color.
Keep powdered sugar and cardamom ready.
In a blender, grind roasted Moong Dal to fine powder.
Add roasted cashew, sugar & cardamom powder.
Heat 5 tbsp of ghee in a large pan.
Add dal mixture and stir it on low flame for 4 min.
Switch the flame and remove from heat
When the mixture is little warm, shape into small sized balls.
If the ball break, add hot ghee and mix well.
Now, you can shape into desired size.
Finally, Moong dal is ready to serve.
Yummy Moong Dal is ready to eat, top with some roasted cashew and serve it.
Check for more sweets recipes.
-Moses
This Recipe Rate :
(0) Reviews