Gongura Pappu Recipe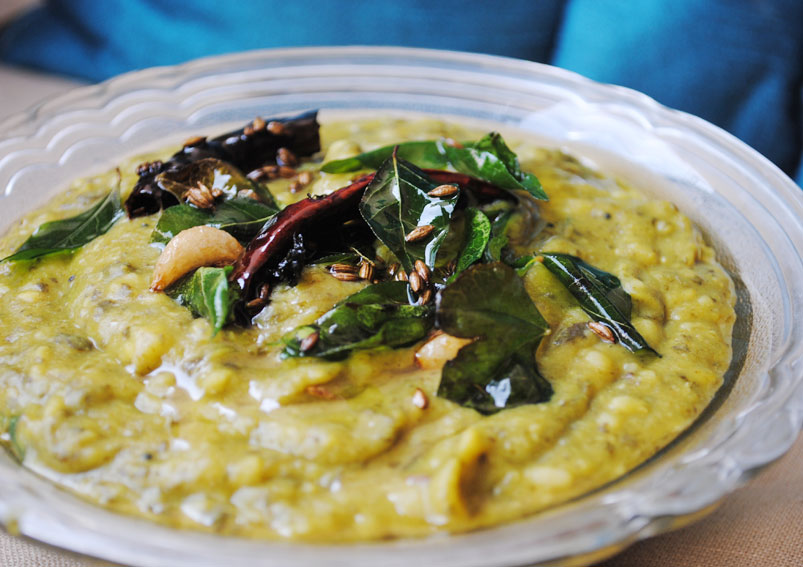 Gongura Pappu is an Andhra dal recipe which is made using sorrel leaves/gongura leaves along with pappu. Pappu is called as 'Dal' in Hindi.
Gongura pappu is a very common recipe. It is prepared in South India especially in Andhra region. It simply turns awesome and best when eaten with rice. Check the preparation process of a gongura pappu :
Ingredients
For Tenderizing Dal:
2 cupsToor dal
5 - 6Green chilies
1Tomatoes chopped
1/2 tspTurmeric powder
1 tspOil
For Tenderizing Gongura Leaves:
1 large bowlGongura leaves/sorrel leaves
1Onion chopped
1/2 tspTurmeric powder
to tasteSalt
1 tspRed chili powder
For Tempering:
1 tbspOil
1/2 tspCumin seeds
1/2 tspMustard seeds
3 - 4Dried red chilies
5 - 6Curry leaves
Directions
Pressure Cooking the pappu:
Take a pressure cooker, add washed toor dal, green chilies, chopped tomatoes, turmeric powder and a tsp of oil.
Add about 2 cups of water and pressure cook for about 3-4 whistles until the pappu gets tender.
Switch off the flame and reduce the pressure, add salt and mash pappu and rest it aside.
Pressure Cooking the Gongura Leaves:
Take a pressure cooker, Add the gongura leaves and sliced onion into it.
Add turmeric powder, red chili powder.
Add half cup of water and pressure cook for 3-4 whistles until the leaves get soft.
Switch off the flame and Slightly mashes the leaves.
Mixing the pressure cooked pappu and leaves:
Now mix the mashed dal and mashed gongura leaves together.
Check for salt, if required, add salt.
Add little quantity of water, if the pappu is thick.
For The Tempering:
Take a pan, add oil and heat it.
Add cumin seeds, mustard seeds and allow it to saute for a min.
Add dried red chilies and mix well.
Add curry leaves and let them crackle.
Transfer the tempering mixture into the pappu.
Finally, gongura pappu is ready to serve.
Tasty!! Serve this spicy gongura pappu with plain rice. In Andhra, people prefer to eat it with either pickles, papad or any veg fry recipe.
Check for more dal reicpes
- Moses
This Recipe Rate :
(1) Reviews
Rithin

Simple steps , good explanation .. wonderful recipe thank you