Punjabi Special Missi Roti Recipe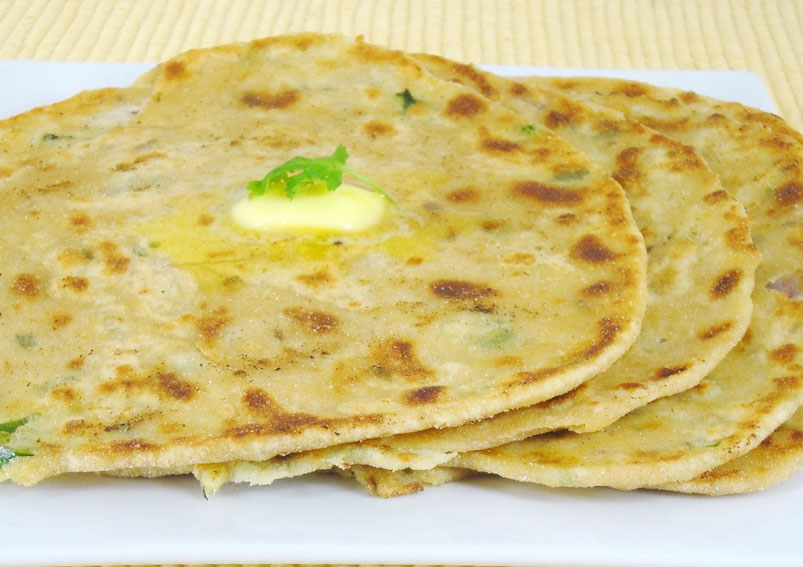 Missi Roti is an authentic roti from Punjab and Rajasthan. This roti is prepared by using few spices and is almost similar to a paratha.
Missi roti is prepared by using two kinds of flour- besan flour and wheat flour. These two flours are the key ingredients to prepare this recipe.
Follow the recipe of a Punjabi special Missi Roti in a step by step process.
Ingredients
2 cupsBesan flour
1 cupWhole wheat flour
to tastesalt
1/2 tspRed chili powder
1/4 tspTurmeric powder
1/2 tspRoasted coriander seeds powder
1/2 tspRoasted pomegranate seeds finely crushed
1/2 tspGaram masala powder
1/2 tspCarom seeds(ajwain)
1 tbspGreen chilies, finely chopped
1 tbspCoriander leaves, finely chopped
2Onions, finely chopped
1 cupwater
Directions
Take a mixing bowl, add besan, whole wheat flour.
Add dry spices such as salt, red chili powder, turmeric powder.
Add carom seeds, roasted coriander seeds powder, finely crushed pomegranate seeds, garam masala powder.
Mix all ingredients well.
Add finely chopped green chilies, finely chopped coriander leaves, and finely chopped onions.
Mix all the ingredients with the flour.
Gradually add water and make it soft dough.
Add little oil into dough and knead soft.
Divide the dough into medium size portions.
Take each dough, dust some flour on the rolling board.
Put the dough portion on the board and roll it like a roti.
The roti should be thick.
Heat the tawa or pan and place the roti on the tawa.
Flip the roti, apply oil/butter/ghee all over the roti.
Flip it again and apply oil/ghee/butter all over.
Cook roti well on both sides.
Continue making rotis with the rest of the dough.
Remove it from the tawa and keep it in casserole.
Finally, Punjabi special Missi Roti is ready, top with some butter and serve it with any chutney or raita or pickle.
Check for more Punjabi special recipes
- Moses
This Recipe Rate :
(0) Reviews