How to Make Dal Gosht Recipe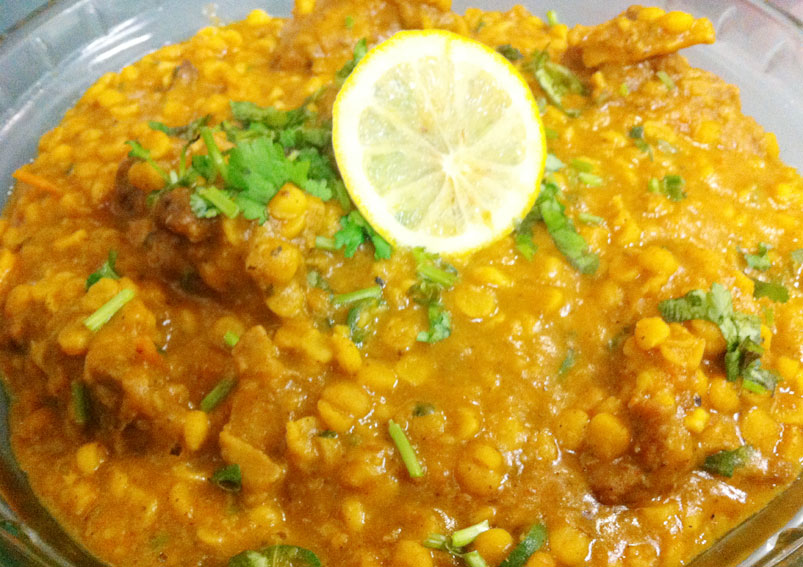 Dal Gosht is a best combination with chana dal. This combination is usually found in Hyderabad and also in some regions in Pakistan.
The dal gosht is so tasty, it goes well with rice or rotis. This recipe is made by using ingredients like onions and yogurt, see the preparation process in a step by step procedure.
Ingredients
2 cupsBesan flour
1 cupWhole wheat flour
to tastesalt
1/2 tspRed chili powder
1/4 tspTurmeric powder
1/2 tspRoasted coriander seeds powder
1/2 tspRoasted pomegranate seeds finely crushed
1/2 tspGaram masala powder
1/2 tspCarom seeds(ajwain)
1 tbspGreen chilies, finely chopped
1 tbspCoriander leaves, finely chopped
2Onions, finely chopped
1 cupwater
Directions
Soak Chana dal in water for about half one hour.
In a pressure cooker, add oil and heat it.
Add sliced onions and saute it for a minute.
Add slit green chilies and add ginger garlic paste.
Saute it for a minute till it cook.
Now, add mutton pieces into it and roast well.
Add salt, red chili powder, turmeric powder, mix well and cook for a few minutes.
Add soaked Chana dal into it and cook for a few minutes.
Add yogurt into it and cook for another few seconds.
Add roasted dry coconut powder and stir well.
Cook for about 3-5 minutes.
Add enough water and pressure cook until the mutton and dal gets tender.
Reduce the steam, remove the lid, add garam masala powder, mint leaves and coriander leaves and saute it for a minute.
Switch off the stove.
Finally, dal gosht is ready to eat, garnish with fresh coriander leaves and a few drops of lemon and serve it with roti or rice.
Also Read - Types of Dals and health benefits
Check for more Non- veg recipes
- Moses
This Recipe Rate :
(0) Reviews