How to Make Masala Milk Recipe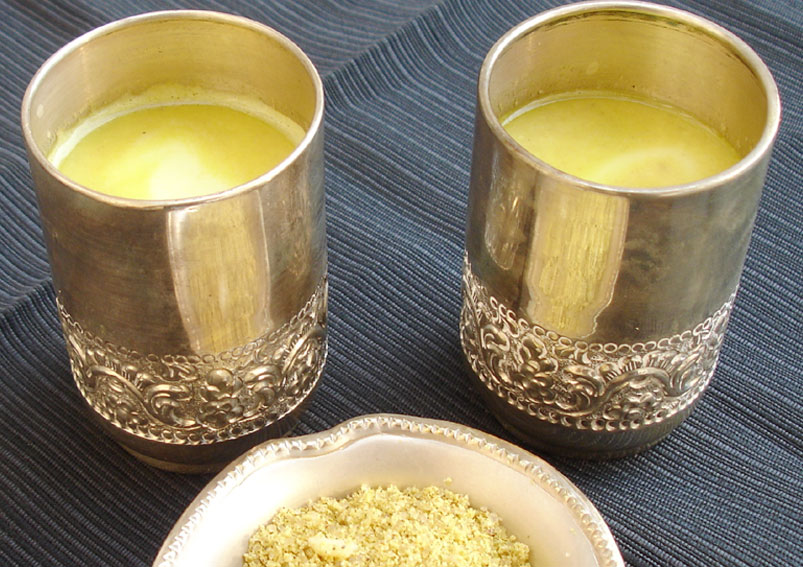 Masala Milk is a wholesome nourishing drink, that tastes delicious and healthy. Masala Milk makes a rich drink, when served to guests at get-together & parties..!!
It is very easy to prepare at home. The recipe is so simple, as it needs to boil milk, adding aromatic spices and nuts together to flavorful combo. Check the preparation process of the drink.
Ingredients
6 to 8Almonds
5Cashews
5Pistachios
2 to 3 cupsMilk
1Cinnamom
2Cloves
2Cardamom
a fewSaffron strands
1 to 2 tbspSugar
a pinchPepper powder
a pinchTurmeric powder
Directions
Soak almonds, cashews and pistachios in hot water for about 20 min.
Peel the skin of almonds and drain nuts.
Grind all nuts and add a little quantity of milk to get smooth paste.
Take a vessel and boil milk.
Allow it to boil, add cinnamon, cloves and cardamom.
Simmer for about 10 min.
strain milk and discard the spices in the milk.
Now, add nuts paste.
Stir continuously while boiling, so that it does not burn at the bottom of the vessel.
Add few saffron strands and simmer for 5 min.
Add turmeric powder, sugar and pepper powder.
Mix well all the ingredients.
Simmer for few minutes.
Transfer milk in a bowl and allow to cool.
Finally, Masala Milk is ready to drink, garnish with chopped nuts and saffron. Enjoy delicious & healthy homemade drink.
Check for more drinks and juices recipes
- Moses
This Recipe Rate :
(0) Reviews