Mint Coriander Rice Recipe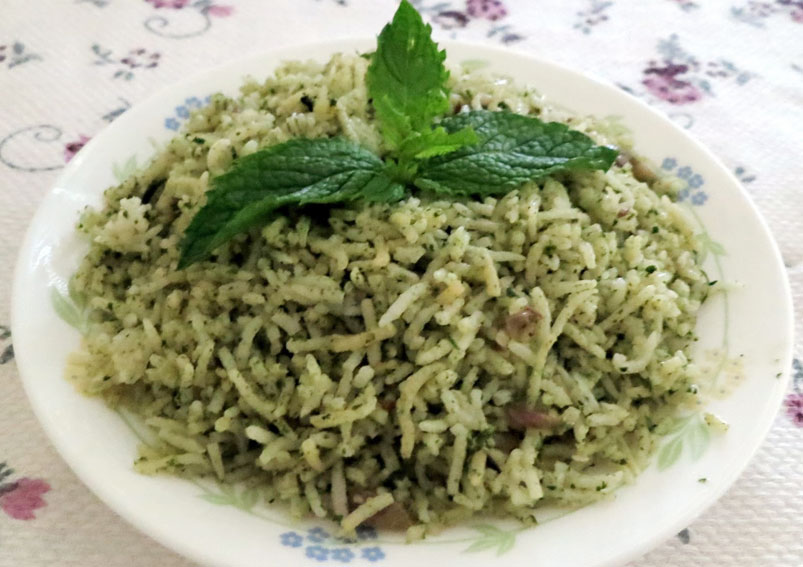 Mint coriander rice is one of the favorite rice dishes and loved by all age groups. The aroma of mint and coriander make this delicious and flavorful dish.
Mint and coriander leaves grow well in almost all weather conditions. So, anytime you are lost on thinking about the next day menu. Just prepare this easy mint coriander rice. This is healthy, nutritive, tasty and a simple rice variety.
Ingredients
2 cupsCooked rice
1Onion, chopped or sliced
1 tbspLemon Juice
3 cupsWater
to tasteSalt
2 tbspGhee/ Oil
1 tbspsesame oil
To grind:
1 cupMint Leaves
1 cupCoriander Leaves
1/4 cupGrated Coconut
1 pieceGinger
4 clovesGarlic
5 or 6Green Chilies
1 tbsWhole Garam Masala
For tempering:
2 tbspCashews/Peanuts
1/2 tspMustard Seeds
1 tspChanna Dal
1 tspUrad dal
1Dry Red Chilies
1Bay Leaf
Directions
Take a plate and spread cooked rice, add 1 tbs of sesame oil to keep the grains cool and separated.
In a blender, add all ingredients and blend to paste.
Heat ghee in a pan or pressure cooker. Fry all the ingredients under 'For Tempering'.
Add the chopped onions and saute till it turns to golden brown.
Next add the ground paste. Saute it for 5-10 minutes till the masala turns to dark green on a medium flame.
After masala is ready, just add the cooked rice and mix it with the masala. Add salt if required.
Cook for a couple of minutes for the flavors to be absorbed by the rice.
Switch off the flame and Mint coriander rice is ready to serve.
Yummy!! Healthy Mint coriander rice is ready to eat, garnish with chopped onions and enjoy the taste of a Mint coriander rice.
Check for more rice recipes
- Moses
This Recipe Rate :
(0) Reviews