Tasty Udipi Sambar Preparation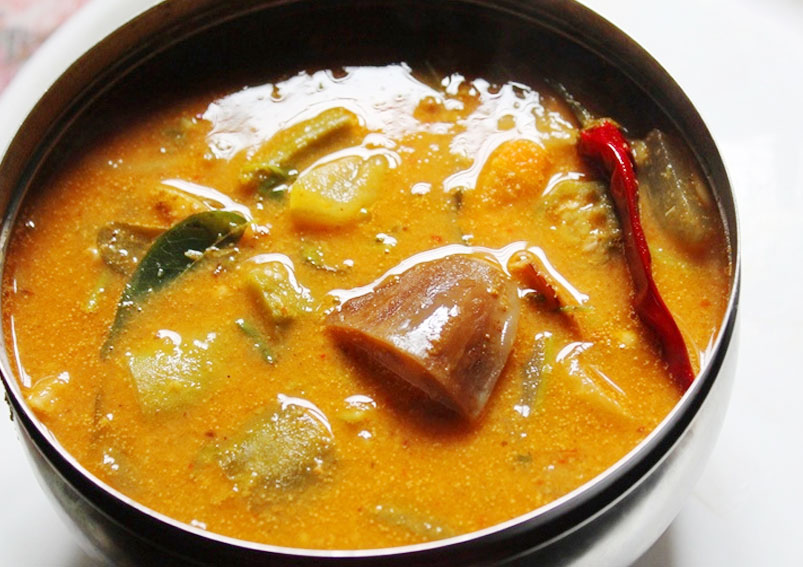 Udipi sambar is the most famous recipe from Mumbai and Bangalore. Udipi food is cooked without the use of onion and garlic. This recipe is served in Udipi restaurants with dosas and idlies.
Here I am sharing the recipe of Udipi Sambar in a step by step process
Ingredients
1/2 cupTuvar dal
1/2 tbsFenugreek seeds
1 tbsUrad Dal
6Red chilies
1+1/2 tbsCoriander seeds
5 springsCurry leaves
1/4 cupCoconut (grated)
25-30Shallot onions, cleaned and peeled
1/2 tbsMustards seeds
1 pinchHing
2Green chilies
2 cupsBrinjals, carrots, french beans, pumpkin, yam, (chopped into big chunks)
1 tbsTamarind
to tasteSalt
1+1/2 tbsJaggery or brown sugar
2 tbsOil
Directions
In a pan, cook tuvar dal in 1 cup of water till it gets soft and mash it nicely.
Heat 1 tbsp of oil in a bottomed pan and roast the fenugreek seeds till the color changes.
Add 1/2 tsp urad dal and let it saute till the change color.
Add red chili and coriander seeds.
Add 3 springs of curry leaves, grated coconut and roast it.
Let it cook for 2-3 minutes till all the ingredients changes color and get aromatic smell.
In a blender, grind all ingredients to a fine paste with a little quantity of water.
Heat 1 tbsp oil in a pan. Add mustard seed.
saute it for a minute and add 1/2 tsp of urad dal and hing.
Cook it for a minute.
Add onions, green chilies and the rest of the curry leaves.
Add chopped vegetables. Cook it till you get a nice aroma and tender.
Add little quantity of water.
Cover with a lid and cook till the vegetables are done.
Remove pulp from tamarind and add to the vegetables.
Add salt according to your taste and crumbled jaggery/brown sugar and cook till the smell of the tamarind disappears.
Add mashed dal and the ground masala paste.
Mix well and add little quantity of water if required.
Simmer for a few min.
Switch off the flame and transfer in a serving bowl.
Finally, Udipi Sambar is read to have, you can enjoy the delicious recipe with any dosa. Idlies or rice.
Read - Benefits of onions
Check for more dal recipes
- Moses
This Recipe Rate :
(0) Reviews