Homemade Phul Gobi 65 Recipe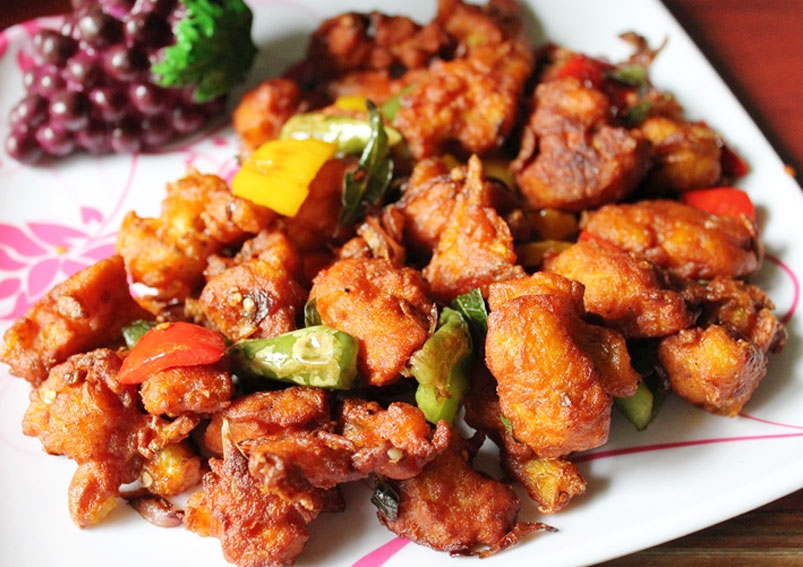 Phul Gobi can be called as Cauliflower in English. Cauliflower contains sulforaphane is a compound that kill cancer cells and thereby slowing tumor growth. Cauliflower is a key to control cancer cells.
Here comes with a different recipe of a Gobi 65. Follow the step by step process to prepare Phul Gobi 65 at home and enjoy the different taste of Gobi 65.
Ingredients
1Cauliflower
3 cupsCorn Flour
1 cupMaida
1 tspTurmeric Powder
2 tblspRed Chilly Powder
1/2 tspAjinamoto
2 tspSoy Sauce
1/2 tspLemon Juice / Vineger
1 tspBlack Pepper Powder
a pinchRed Food Color
as neededSalt
1/2 cupcelery leaves
Directions
Firstly, clean cauliflower and cut into pieces.
Take a bowl and add corn flour, maida, turmeric, red chilly powder, Ajinomoto, pepper powder, salt.
Mix all ingredients well.
Add a pinch of red food color, lemon juice and soy sauce.
Add water gradually to make a smooth batter.
In the meantime, heat oil in a kadai or pan.
Add cauliflower florets in the batter and mix well, so that the florets should completely coated with the batter.
Gently drop the florets in the hot oil for deep frying.
Deep fry for 6-8 minutes till the color changes.
Remove florets from after fried and drain excess oil in a paper towel.
Now, Gobi 65 is ready to serve.
Finally, garnish with celery leaves and green onions. Serve hot with ketchup, schezwan sauce, or any green chutney.
Check for more Snack recipes
- Moses
This Recipe Rate :
(0) Reviews