Buttermilk Curry - Moru Curry Recipe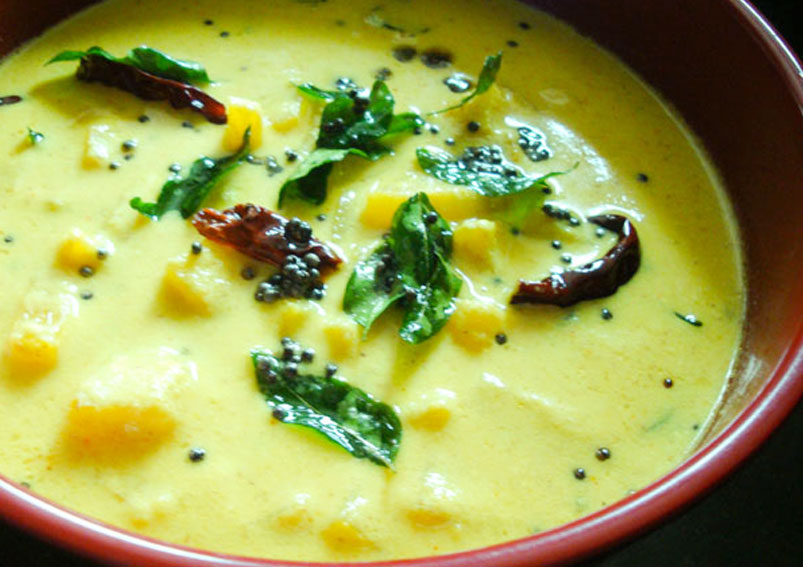 Buttermilk Curry is a simple and instant recipe that can be prepared for sudden guests or during busy days.
Here is the recipe of a Buttermilk Curry / Moru curry in a step by step process:
Ingredients
1/2 cupVegetable of choice
1/4 tspRed Chili Powder
1/4 tspBlack Pepper Powder
1 tspRice powder
to tasteSalt
1/2 cupYogurt
1/2 cupSugar or jaggery
a pinchAsafoetida
1/2 cupChopped green coriander leaves
1/2 cupMint leaves
For seasoning:
1 tspOil
1 tspMustard seeds
1/4 tspFenugreek Seeds
1/4 tspCumin Seeds
1Dry Red Chili
1 sprigCurry Leaves
Directions
Cook any vegetable of your choice in a vessel by adding salt, turmeric powder, chili powder and black pepper powder.
Add rice powder in 2 tbsp of water, mix well and add to the cooked vegetables.
When it comes to boil, add jaggery and cook till it dissolves.
Then add beaten curd. Mix well and switch off the flame.
Take a pan, add 1 tbs of oil and add Mustard seeds, Fenugreek Seeds, Cumin Seeds, Dry Red Chili, Curry Leaves.
Let it saute for a minute.
Add this seasoning to the above curd.
Now, Buttermilk curry is ready.
Yummy!! Buttermilk curry or moru curry is ready to have, garnish with chopped coriander leaves and mint leaves.
- Moses
This Recipe Rate :
(0) Reviews