Best Yogurt Mixed Berry Parfait Recipe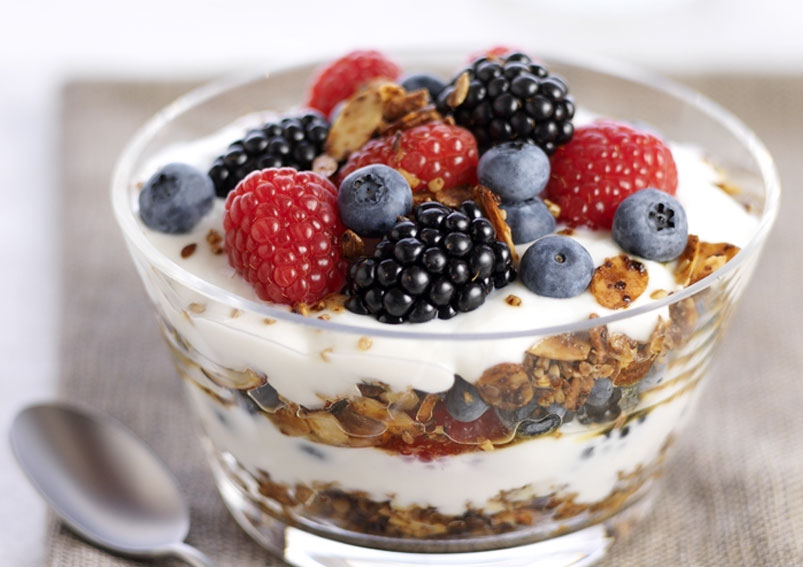 The word parfait derived from France and referred to a frozen dessert. This is a popular dessert prepared with yogurt. Very few know about the original parfait of an American dessert.
It is a very light recipe and perfect for breakfast. If you want to make the same as a dessert, replace the yogurt with ice cream or mascarpone cheese.
Well, am going to share the recipe of popular breakfast from America and Canada - Yogurt Mixed Berry Parfait. You can have this for your breakfast or dessert.
Ingredients
1 cupGranola (Making Process of

Granola Recipe

)
1 cupYogurt
as per tasteHoney
1 cupMixed berries (Strawberries, Blueberries, Blackberries,Raspberries,etc..)
2 tspSugar
1 tbsLemon
1 tbsOrange zest
Directions
Take a bowl, add berries with sugar and let it rest for 10-15 minutes.
Add some lemon and orange zest for flavor.
In a bowl, add yogurt with some honey.
Take a glasses.
Now, Layer glass with 1 tbsp of yogurt followed by 1 tbsp of berries and then with 1 tbsp of granola.
Repeat the process till you reach the top of the glass.
Yummy!! Yogurt Mixed Berry Parfait is ready to eat. Enjoy the American breakfast topping with extra honey and berries.
Check for more Dessert recipes
- Moses
This Recipe Rate :
(0) Reviews