Easy Healthy Granola Recipe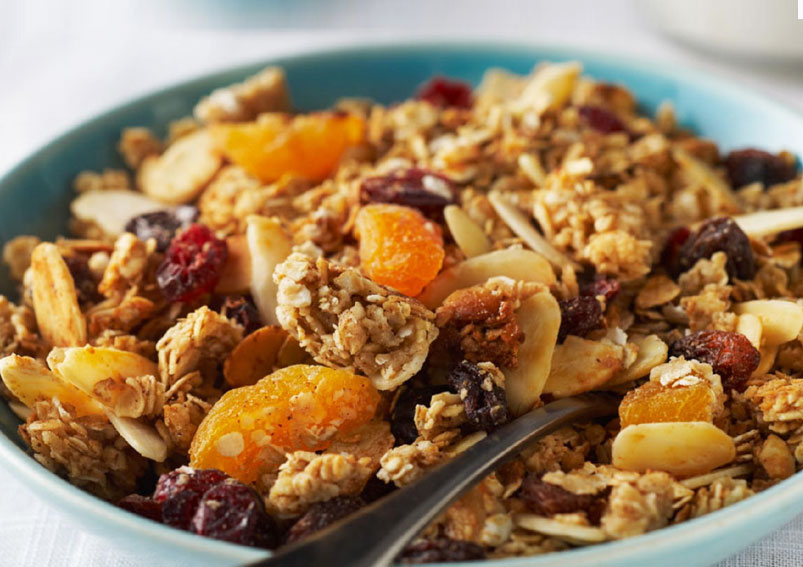 Granola is a healthy food recipe and is easy to prepare in a few minutes. You just need to add all your favorite dried fruits, nuts and seeds.
It is a healthy way for breakfast and makes you fit all the day. Here is the Granola recipe in a step by step process.
Ingredients
2 cupsQuaker Oats
1/2 cupPeanuts
1/2 cupCashew nuts
1/2 cupAlmond
1/2 cupSunflower seeds
1/2 cupRaisins
1 tspCinnamon Powder
1/2 cupMaple syrup
1 tspVanilla Extract
1/2 cupDried fruit
1/4 cupVegetable oil
Directions
In a bowl, add Quaker Oats, cinnamon powder, Cashew nuts, Almonds, Peanuts, Sunflower seeds.
Mix all the ingredients well.
Add Maple syrup, vanilla extract, Vegetable oil and mix well.
Mix it till all of the oats are coated with the Maple syrup mixture.
Transfer the mixture onto the prepared baking Pan.
Spread it evenly in a pan.
Preheat oven to 325 degrees F and bake for 30 min.
After 30 min, remove from oven. Let it cool completely.
Granola is ready to eat.
Yummy!! Healthy granola is ready to have, garnish with raisins and dried fruits over granola. Enjoy the yummy taste of granola.
Check for more dessert recipes
- Moses
This Recipe Rate :
(0) Reviews