Drumstick Dry Mango Curry Recipe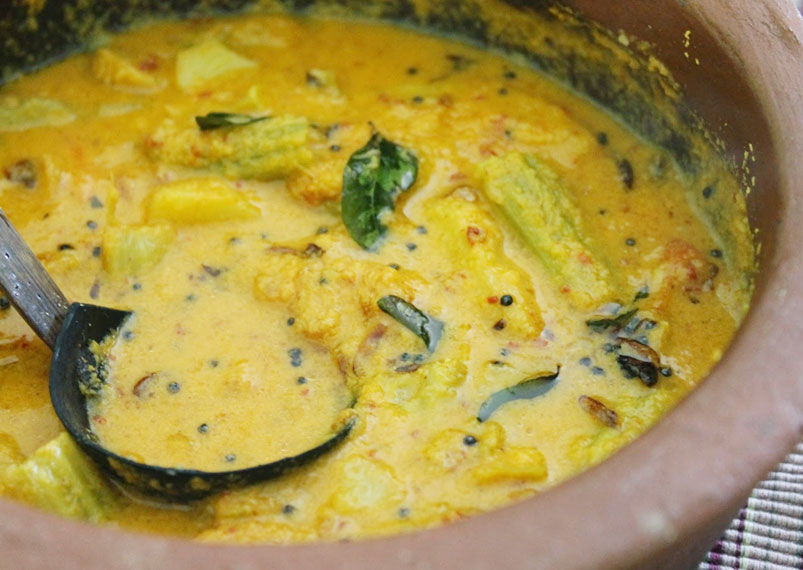 Raw mango curry with drumstick is a seasonal and a spicy dish from Kerala. Drumstick dry mango curry is a healthy and an ultimate recipe for weak children. It helps to improve iron levels and immunity power in the body. It also helps to prevent hair fall.
Here is the healthy and nutritious drumstick dry Mango Curry preparation process.
Ingredients
2 spoonsSunflower oil
1/4 spoonTurmeric Powder
1 bigOnion, chopped
1 spoonGarlic, chopped
1 spoonGinger
3 spoonsDry mango pieces
200gmsDrumsticks
1/4 spoonFenugreek powder
1/2 cupCoriander leaves
1 tspsalt
Directions
Heat oil in a pan or kadai or clay pot.
Add chopped onion, haldi, chopped ginger, garlic and saute it for a minute.
Add drumsticks and cook for 10 minutes.
Add dry mango pieces and salt.
Let it cook for a another minute.
Check for the salt. If not, add salt according to your taste.
Saute it for a minute or so and switch off the flame.
Transfer in a serving bowl and is ready to have.
Finally, Drumstick Dry Mango Curry is ready to have, garnish with fresh coriander leaves and chopped onions. Serve this dish with plain rice or roti's.
Read - Benefits of Moringa Oleifera
- Moses
This Recipe Rate :
(0) Reviews