Homemade Mughlai Paratha Recipe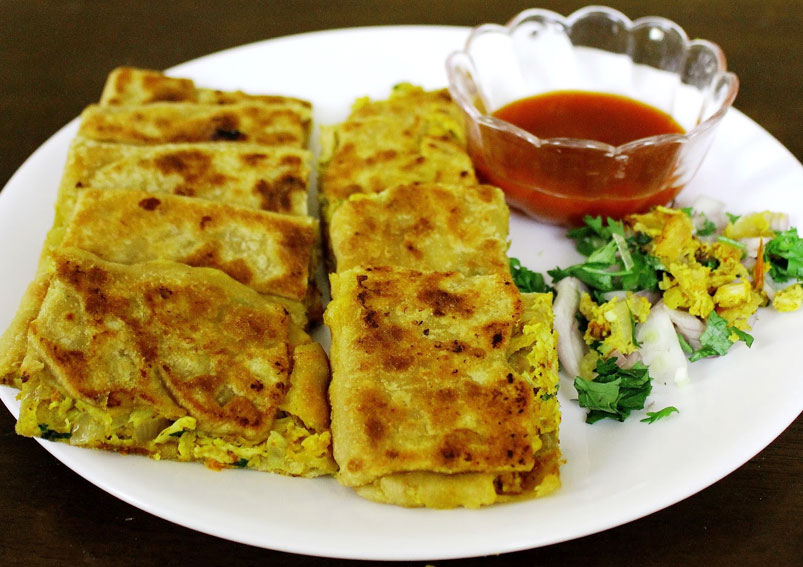 Mughlai Paratha is a tasty bread prepared with spiced egg mixture and wheat flour. It serves as a delicious and healthy breakfast along with yogurt, pickle or any chutney of your choice.
Here is the easy way to prepare Mughlai Paratha which is explained in a step by step process.
Ingredients
For Dough:
1 cupMaida
1/2 cupWheat flour
1 tbspVegetable oil
1 tspSalt
as neededWater
For Egg Mix:
2Eggs
1/2Onion (finely chopped)
1Green chilly (finely chopped)
1/2 cupCoriander leaves (finely chopped)
1 tbspVegetable Oil
1 tspSalt
Directions
In a bowl, mix all the ingredients for dough.
Add required water and knead the dough to get smoothness.
Cover the dough with a smooth cloth or utensil and keep it aside.
Next beat the eggs in a bowl. Add chopped onion, chopped green chilly, chopped coriander leaves, salt and mix together.
Now, make round balls out of the dough. Roll the dough balls into a thin circle with a rolling pin.
Heat a non-stick pan. Place the thin paratha on the pan and cook both sides on medium flame.
Add 2-3 tbsp of the egg mixture on the middle of the paratha.
Curve the 3 sides of the dough to give a triangular shape with the help of a spoon.
Add 1-2 tbsp of oil for frying. Flip paratha gently.
Fry both sides well and take it out from pan.
Mughlai paratha is ready, keep it in a casserole.
Nutritious & tasty Mughlai paratha is ready to eat. Enjoy it with any side dish or pickle and any spicy curry of your choice.
Check for more paratha recipes
- Moses
This Recipe Rate :
(0) Reviews