Delicious Sweet Corn Paratha Recipe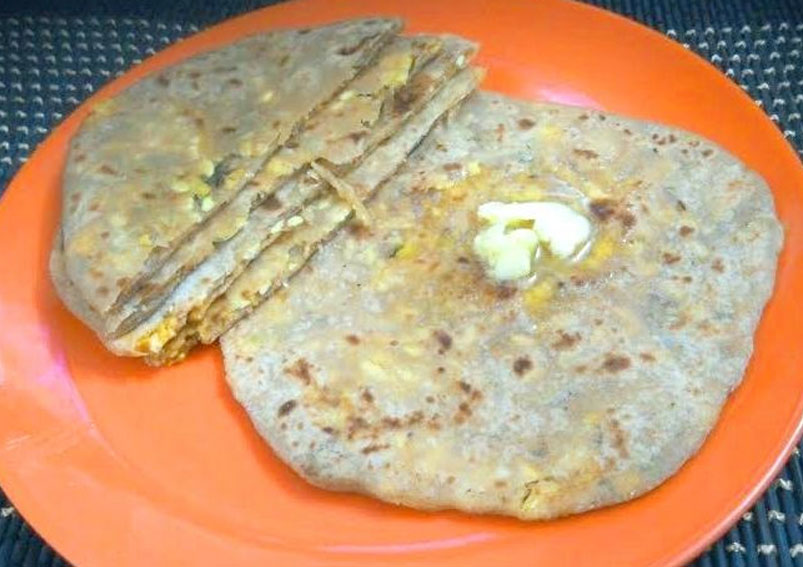 Sweet Corn paratha is an Indian bread recipe with a spicy sweet corn stuff. Paratha recipes are quite common in North India. The sweet corn paratha is made by using wheat dough and then the stuffing used is a spicy sweet corn mixture which is mixed with paratha and then cooked.
This tasty paratha can be served for breakfast or snack. See the recipe process in step by step method.
Ingredients
2 cupsBoiled sweet corns
3–4 cupsWheat flour
1Green chili
1 tspGinger garlic paste
1/4 tspAjwain
a pinchAsafoetida
1 tspRed chili powder
1/2 cupCurd
1 tspButter
as neededSalt
1/2 cupChopped coriander leaves
Directions
In a blender, add sweet corn, green chili, ginger garlic and grind to smooth paste.
Take a bowl, add rest of the ingredients in the sweet corn paste to make a dough by adding required water.
Make small balls out of smooth dough.
Roll out the balls with a rolling pin.
Heat a pan or tawa, place the flat thin paratha over heat pan.
Cook both sides well and apply oil on paratha and cook for a minute.
Make sure the paratha is cooked well.
Finally, Sweet corn paratha is ready to have, cut it into desired shapes and serve it with ketchup, sauce or with any spicy curry.
Also Check - Wheat Benefits
- Moses
This Recipe Rate :
(0) Reviews