Crispy Thattai Recipe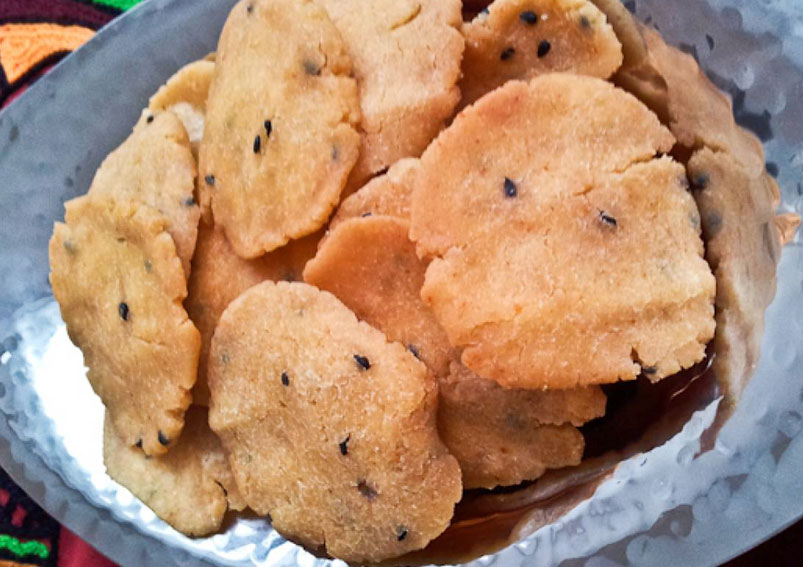 Thattai is a most popular south Indian snack. You can call them as crispy rice crackers. This is a simple, nutritious snack to munch with a cup of tea or coffee as an evening snack.
This is prepared with rice flour and a few spices. Check the process of making Thattai recipe.
Ingredients
2 cupRice Flour
2 tbspUrad Dal flour
as per tasteChili powder
2 tbspBengal gram/Channa Dal/Kadalaparuppu
1/2 cupCurry leaves chopped into small pieces
to tasteSalt
1/4 tspAsafoetida
2 tspButter
for fryingOil
1/2 cupCoriander leaves
1 tbsLemon juice
Directions
Soak bengal gram/Channa Dal/Kadalaparuppu for 1 hour and drain it and let it dry for a few minutes.
In a kadai or pan, add rice flour, urad dal four, chili powder, Bengal gram, curry leaves, salt, asafoetida, butter.
Add little quantity of water little by little and make dough.
Mix well and make smooth & soft dough.
Take a small portion of dough and flatten it to get a thin roti on a cloth.
You can also apply little oil on a plastic sheet for preparing a thin roti.
Heat oil for deep frying in pan or kadai.
Drop slowly a thin roti on to the hot oil.
Cook for a few minutes, till you will observe the changing of color and crispiness.
Remove from oil and place them on a paper towel.
Yummy!! Crispy!! Thattai is ready to have, garnish with chopped coriander leaves and drizzle with some lemon juice. Serve it with a cup of tea or coffee as an evening snack.
Check for more snack recipe
- Moses
This Recipe Rate :
(0) Reviews