How to Make Masala Cookies / Masala Biscuit Recipe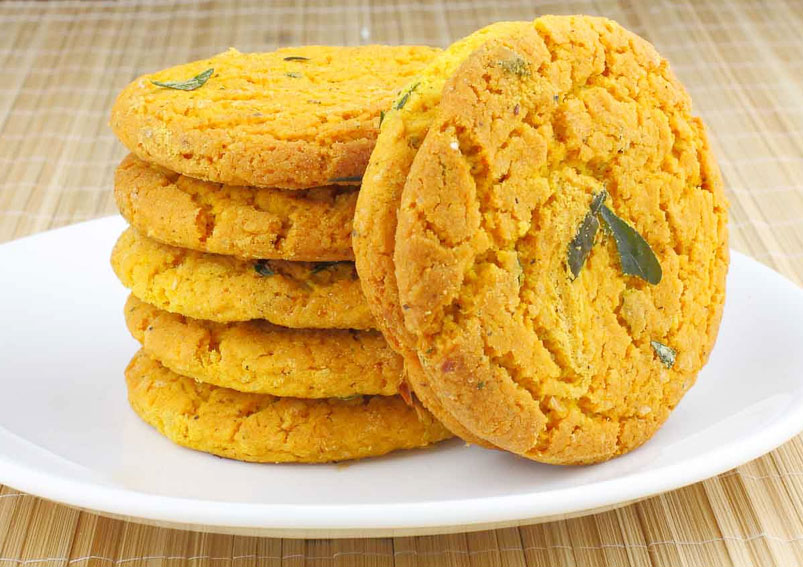 Masala Biscuit is a simple and easy cookie that is flavored with chilies, ginger with the addition of butter and ghee. This is a easy recipe to prepare at home for an evening snack.
Here is the recipe of a masala cookies in a step by step process:
Ingredients
2 cupsAll purpose flour (Maida)
3/4 cupButter/Ghee
1 tspChili powder
1 pieceGinger, minced
1 tspCumin seeds
1 or 2Red Chilies, minced
2 strandsCurry leaves, chopped
1/2 tspBaking Soda
a pinchAsaefoetida
to tasteSalt
2 tspSugar
1/2 cupCoriander leaves
Directions
Take a bowl, add all above ingredients together to get a nice dough like chapati dough.
If the dough is moist not enough adding 2-3 tbsp of curd.
Grease an aluminum foil and place it in a large baking plate.
Place dough in aluminum foil.
Using a cutter or any bottle lid, cut out into desired cookie shapes.
Preheated the oven to 325 degrees F.
Bake this for 20-25 minutes in an oven.
Masala Cookies are ready to have, garnish with fresh corinader leaves before serving. Cool and store in an airtight box and enjoy it for many days.
Check for more bake recipes
- Moses
This Recipe Rate :
(0) Reviews