Tasty Banana Cake Recipe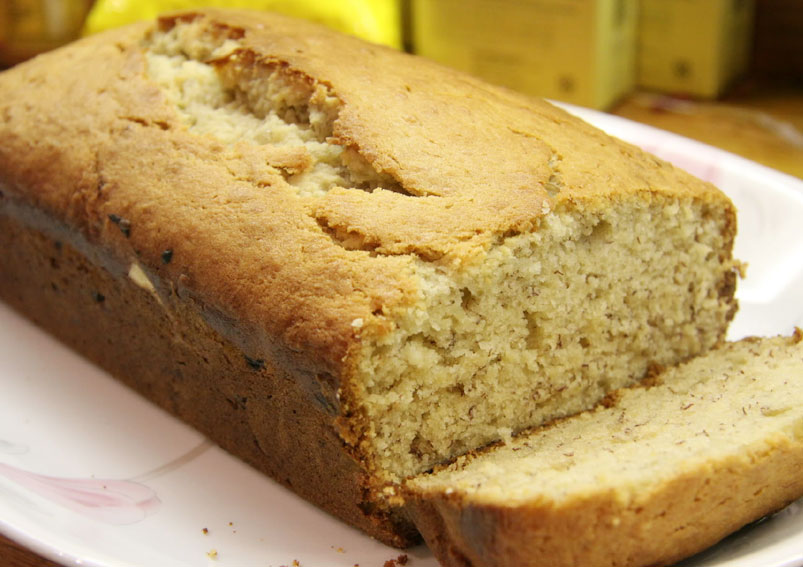 A spongy banana cake is a good alternative to routine banana recipes, when you're looking for a tasty snack. Banana Cake is a simple sponge cake recipe flavored with banana and other nuts like cashews, almonds, raisins, etc.
Here is the recipe of a tasty banana cake in a step by step process.
Ingredients
2-3Bananas
1+1/2 cupAll purpose flour (Maida)
1/2 cupVegetable oil
1 cupSugar
1Egg
1 tspVanilla extract
1 tspBaking soda
a pinchSalt
1/4 cupNuts (Cashews/Almonds)
1/4 cupRaisins
Directions
In a bowl, mash bananas nicely and add vegetable oil, sugar and it.
Beat egg separately in a bowl.
Add salt, baking soda, flour and mix well.
Add this flour mixture to the banana mixture, stir continuously by using a hand mixer.
In a bowl, mix raisins with little dry flour. This will prevent it from sinking each other.
Finally, add the nuts, raisins and vanilla extract and mix all together using a spoon or spatula.
Preheated oven to 350 degree F.
Apply ghee or oil to the baking pan.
Pour the mixture into a greased pan and bake for 30-35 minutes in an oven.
After baking, remove the cake from oven.
Yummy!! Banana cake is ready to have, garnish with some nuts, raisins and top with fresh cream before serving.
Check for more cake recipes
- Moses
This Recipe Rate :
(0) Reviews