How to Prepare Potato Adai Recipe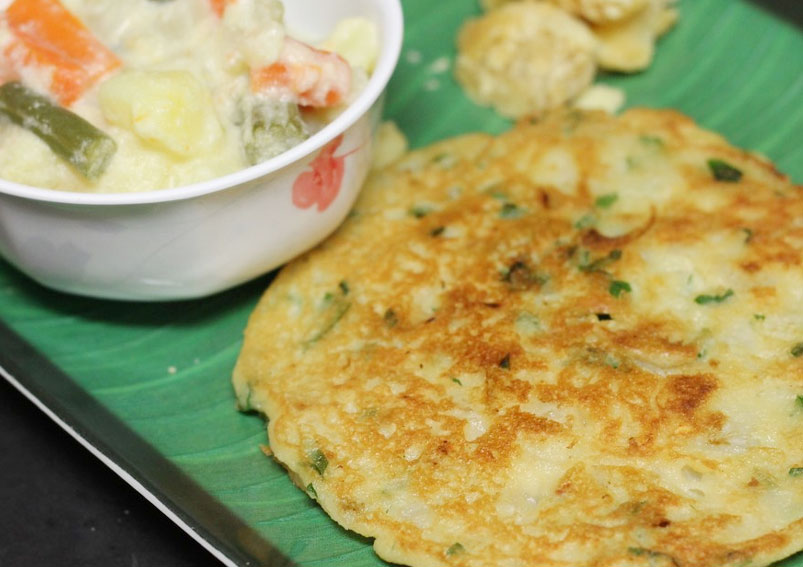 Potato Adai or Pancake is a healthy and a delicious recipe. It can be prepared for breakfast or snack.
This dish is a delicious and healthy way to start a day and a quick breakfast recipe to prepare. Check the process of making it.
Ingredients
2 slicedPotatoes
2 cupsRice
1 cupChanna Dal
1.5 cupMasoor Dal
1/2 cupUrid Dal
2Red Chilies
2Green Chilies
8-10Black Pepper
1/2 cupBlack Pepper Powder
to tasteSalt
a pinchAsafoeitida
fewCurry leaves
as neededoil
Directions
Wash and soak rice and dals for 4 hrs along with red chilly.
Grind to a smooth batter with other ingredients in a blender.
Allow to ferment it for 5 hours at-least.
Heat oil on a tawa or pan in a medium flame.
Now dip the potato slices in the batter and place it on the tawa in a circular form.
Arrange the potato pieces and fill the remaining portion with the batter to make a circular shape.
Sprinkle black pepper powder on top of it and drizzle one oil on top of it.
Flip the other side to cook. Pour one tsp oil again.
When it's cooked, remove from pan and place in a casserole.
Finally, Potato Adai is ready to have, serve hot with any chutney, pickles, or dhahi. Enjoy the yummy taste of Potato Adai.
- Moses
This Recipe Rate :
(0) Reviews