Tasty Mutton Masala Recipe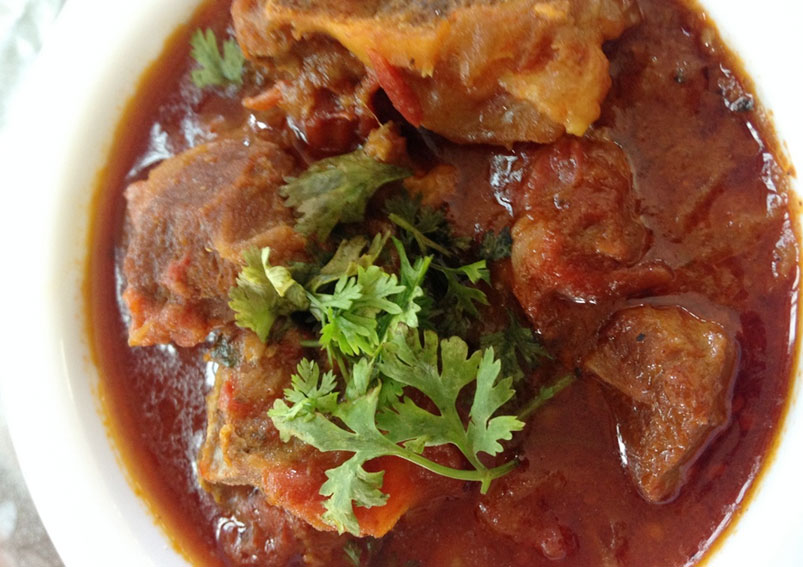 Mutton Masala Curry is a tasty and healthy Indian recipe served as a Main dish. A spicy lamb curry goes great with rice or any roti varieties. This spicy mutton dish is very easy to prepare and also tastes great.
Here is the recipe of a tasty dish of Mutton Masala curry in a step by step process.
Ingredients
1/2 kgMutton
1/2 cupOnion Chopped
1Tomato small sized chopped
2 tbspGinger Garlic
1 stringCurry Leaves
1 tspChilly powder
2 tspCoriander powder
1/2 tspFennel seeds powdered
1/2 tspGaram masala
1/4 tspTurmeric
2 tbspOil
1/2 cupWater
1/2 cupCoriander leaves chopped
1/2 tspBlack Pepper powdered
to TasteSalt
Directions
Take a bowl, wash Mutton thoroughly in water and drain it.
Heat pan with oil and saute onion, ginger, garlic together till onion turns brown.
Add Tomato and saute for another minute.
Add mutton pieces and saute it for a minute.
Add Chili powder, coriander powder, Garam masala, turmeric, salt and saute it for another 2-3 minutes, so that the mutton pieces will coated with all the masalas.
Add 1/2 cup of water and let it cook for 20-25 minutes.
Let it cook on low flame for another 10-15 minutes till the water is evaporated.
Switch off the flame and transfer in a serving bowl.
Mutton masala Curry is ready.
Health!! Mutton masala Curry is ready to serve and garnish it with chopped coriander leaves, curry leaves, Fennel seeds powder and black pepper. Serve and enjoy the tasty mutton masala curry with roti and rice.
Check for more Non-veg recipes
- Moses
This Recipe Rate :
(0) Reviews