Delicious Home Made Chocolate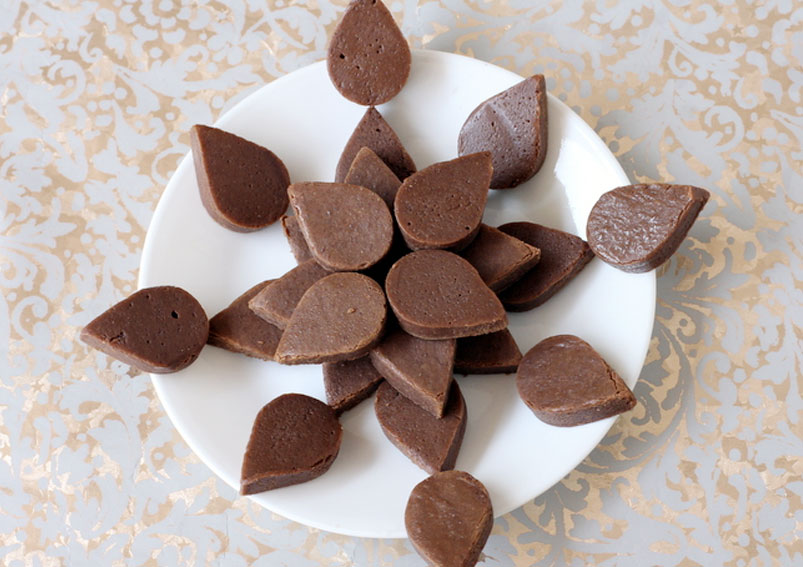 Chocolate is rich and soft to taste, and each bite will give you a burst of chocolate flavored in your mouth. The delicious Home made Chocolate recipe is a delicious dessert recipe that can be popped into the mouth at any point of time. Chocolates are full time favorite snacks and there's no specific occasion needed to eat them. Indulge in the goodness of chocolate and pamper your loved ones with this simple recipe. Here is the recipe making process.
Ingredients
4 teaspoonCocoa powder
1 cupsMilk powder
1/4 cupButter
2/3 cupSugar
2 dropsVanilla essence
1/2 cupWater
Directions
Take a pan add cocoa powder, sugar and cook it in the low flame.
Stir it continuously till you get one string consistency of the sugar syrup.
Turn off the flame.
Add butter and vanilla essence.
Stir it well.
Take a bowl add cocoa powder and milk powder.
Mix it well.
Add cocoa powder and milk powder mixture to the sugar syrup.
Mix the chocolate batter nicely.
Now add this batter to the chocolate molds.
Put the filled molds in refrigerator for 1 hour.
Now your delicious Home Made Chocolate is ready to serve.
Notes:
See that your sugar and water measurement for the syrup is in proper ratio.
Take care while adding cocoa powder and milk powder mixture and ensure that no lumps are created.
If you want a bitter taste for your chocolate you can add one tsp of coffee powder.
Add nuts for better crunch.
Instead of cocoa powder you can add dark cocoa powder which is good for health.
Also check benefits of chocolate
By Meghna
This Recipe Rate :
(0) Reviews