Aloo Masala Grilled Sandwich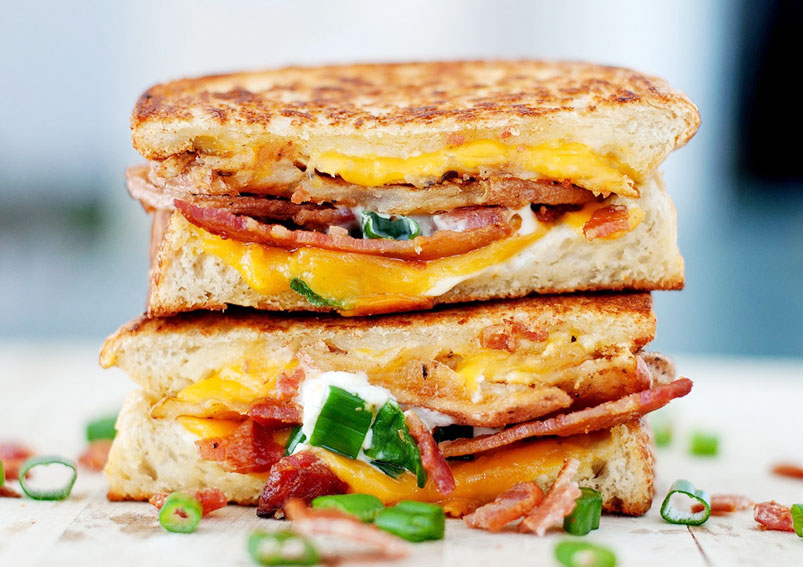 This Aloo Masala Grilled Sandwich recipe is blend with spicy masala with potato filling .It is a perfect for morning breakfast. This recipe can be more healthy if you are using wheat bread. This Aloo Masala Grilled Sandwich is loved by kids, they love it and also works good for Lunch, Breakfast, Snack or even Dinner. It works great in multiple ways. Grated cheese or a cheese slice can be added for better taste. Here is the recipe.
Ingredients
2small sized potato, boiled and pealed
1onion, finely chopped
1 tspchilies powder
1 tspchaat masala
1 tspbutter to grill
1 tspmixed herbs (thyme, rosemary, marjoram, basil, oregano, sage)
4bread slices
2 tspgreen chutney
2 tsptomato sauce
1 tspsalt
Directions
First, in a bowl mash boiled potatoes.
Add in chopped onions.
Add chilies powder, chaat masala, mixed herbs and salt.
Mix and mash the potatoes well.
Take bread slices and spread green chutney and tomato sauce.
Spread generously.
Cover other bread slice and press gently.
Grill or toast on tawa adding some butter.
Spread butter on both the outer sides of bread to make sandwich more crispy and golden.
Now grill till the cheese melts and bread turn golden brown.
Cut the bread into half and serve.
Serve hot with tomato sauce.
Also Read Grilled Pineapple Recipe
Health of Wheat bread
By Meghna
This Recipe Rate :
(0) Reviews