Recipe of Kothimbir Vadi Recipe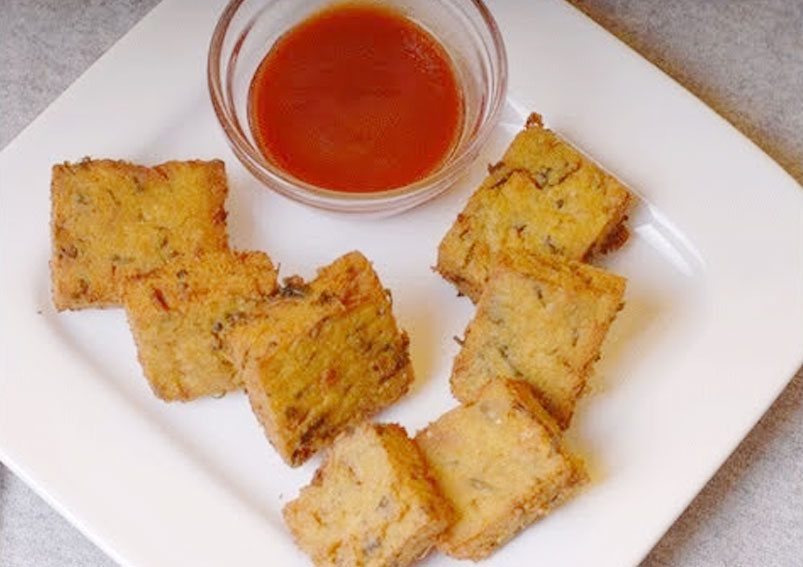 Kothimbir Vadi (Coriander fitters) is one of the traditional Maharashtrian snacks. Kothimbir is the Marathi word for Coriander leaves. It is basically made up of Coriander leaves using besan (Chickpea flour).
Ingredients
2 cupoil for frying
1 cupchopped coriander leaves
1 cupgram flour (besan / chickpea flour)
1 cupwater
1 tspturmeric powder
1 tbspred chili powder
1 tbspginger-garlic paste
1 tbsppoppy seeds
1 tbspwhite sesame seeds
6 to 7crushed peanuts
A pinchof hing
1 tspcoriander seed powder
1 tspsalt
Directions
Take a bowl, add all ingredients except oil.
Mix it.
Pour this batter in a Microwave bowl or Microwave streamer.
Cook on high power for 3 to 4 minutes.
Allow it to cool down.
Cut into square or diamond shape.
Heat the pan with oil.
Fry the fitters/ Vadi.
Serve it hot with sauce.
Notes:
Ensure the heat is on a low flame while frying the fritters.
Also, the batter consistency should be thick and not thin batter.
Also Read Marathi Dish - Vada Pav Recipe
BY Meghna
This Recipe Rate :
(0) Reviews