How to make Sabudana Kheer Recipe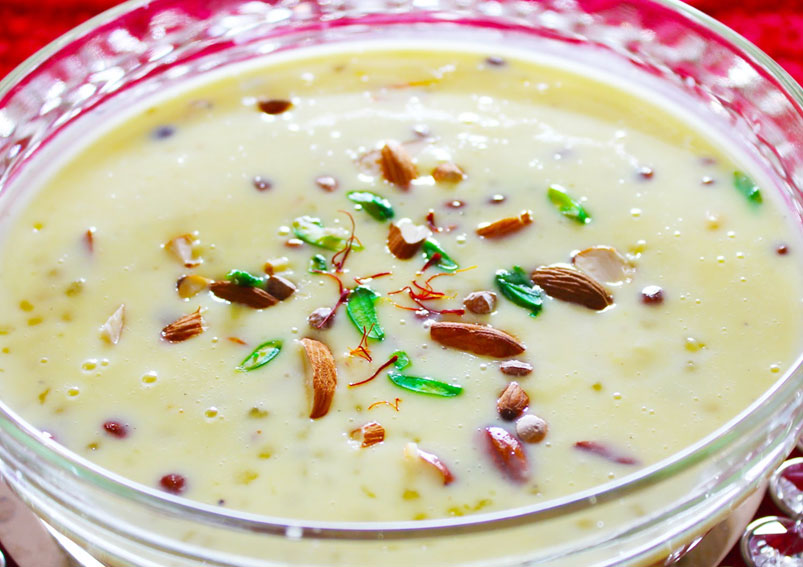 Sabudana Kheer Recipe is a sweet pudding made from tapioca pearls, milk and sugar. It is flavored with saffron, dry fruits and cardamon. This Kheer is prepared during the festival.
Ingredients
1/3 cuptapioca (sabudana,sago)
3 cupsmilk
3 tablespoonssugar
1 tablespoonsliced pistachios
Fewstrands of saffron
1/4 teaspooncardamom powder
Directions
Wash and soak the tapioca (sabudana) in 1/3 cups of water for at least two hours, Sabudana will soak up most of the water and become light and fluffy.
Boil the milk in a heavy bottom pan after milk comes to boil, let it boil for about another 8 to 10 minutes.
Stir occasionally so the milk does not burn in the bottom of the pan.
Add the tapioca (sabudana), cook until tapioca is soft and has become translucent, it takes about 4 minutes.
Add sugar, cardamom, pistachios, and saffron.
Boil for 2 to 3 minutes.
Turn off the flame.
As Kheer cools down, it will become a little thicker in consistency.
Kheer can be served chilled or warm.
Also, Read Sweet Pongal Recipe with Jaggery
BY Meghna
This Recipe Rate :
(0) Reviews