Recipe of Rava Pongal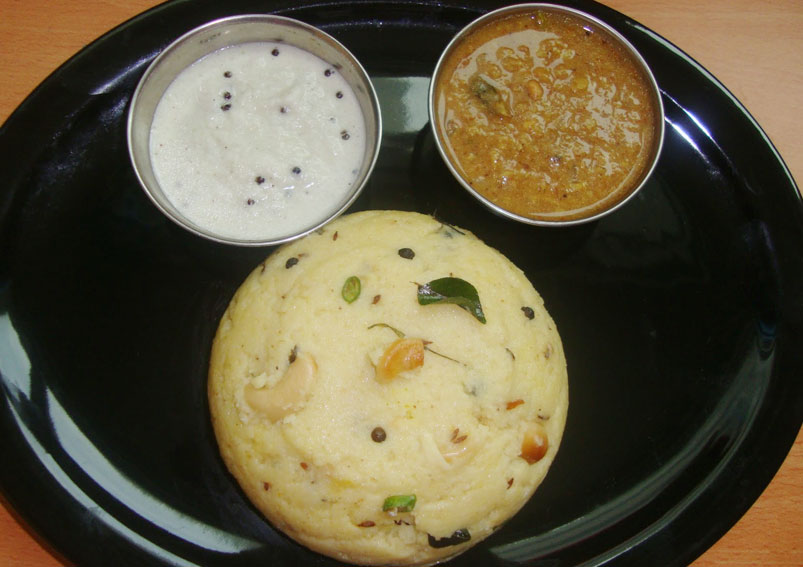 Rava Pongal is healthy breakfast recipe made with Rava and Moong Dal. It is occasionally prepared during festivals. It is delicious, healthy and easy to make. Prepare this delicious South Indian recipe at home for this Sankranthi festival.
Ingredients
1 cupcoarse semolina
1/2 cupyellow moong dal
3whole red dry chilies, chopped
2 sprigscoriander leaves, finely chopped
1 stalkCurry leaves
10cashews, halved
1/2 tbspUrad Dalgrainsr
1/2 tspcumin powder
1/2 tspMustard Seeds
8 to 10peppercorns
2 tspLemon juice, fresh
3 tbspGhee
2 tbspoil
to tasteSalt
Directions
Melt ghee in a heavy pan, add dry moong dal.
Roast over a medium flame, for 3-4 minutes, or till aroma exudes.
Add 2 cups hot water and cook till dal is cooked but firm (mashy in texture).
Drain, keep aside till required.
Heat oil in a heavy pan.
Add cashews, Urad dal and roast till golden.
Then add cumin and mustard seeds.
Allow to splutter, then add chilies, curry leaves, peppercorns and semolina.
Roast on a low flame
Stir continuously, till rava exudes a strong aroma.
Add salt, cooked moong dal and lemon juice.
Stir gently.
When water has blended with rava, cover and cook over a low flame for 3-4 minutes.
Adjust water, lemon juice and salt as per taste, if needed.
The pongal should be softer in consistency like upma.
Garnish with chopped coriander.
Serve hot.
Also, Read Rice Pongal Recipe
Health Benefits of Semolina
By Meghna
This Recipe Rate :
(0) Reviews