Pav Bhaji Recipe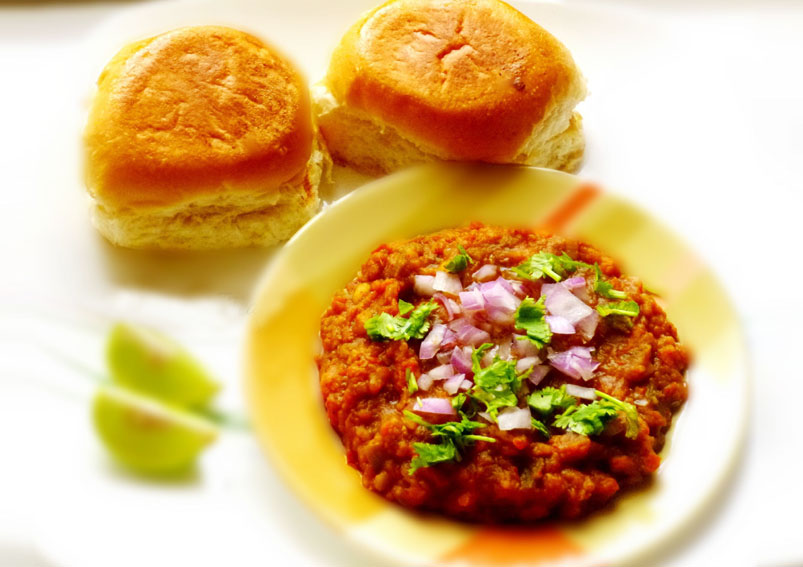 Do you like to make your day awesome then try some yummy Pav Bhaji, the most popular street food. Pav Bhaji is the spicy blend of Vegetables and the bun, what a combination. You will surely love it. So let's learn how to prepare it.
Ingredients
100 g eachcarrot, beans, cabbage, capsicum, cauliflower, onion, garlic, potatoes, tomatoes.
4PavBhaji bread
1/2 tspTurmeric powder
to tasteSalt
1/2 tbspcumin powder
1/2 tbspcoriander powder
1.5 tbsp

Pav

bhaji masala
1 tspButter to toast Pav
Directions
Pressure cook the vegetables (carrot, cabbage, beans, cauliflower, potatoes), cook for 30 minutes.
In the frying pan, add some butter and oil and fry the onion and garlic till it turns light brown in color.
Add tomatoes, capsicum, salt, and turmeric powder.
Fry for 5 minutes.
Mash the cooked vegetables and add to frying pan.
Add cumin and coriander powder, mix well with the onion, capsicum and tomatoes.
Add half a glass of water if the masala is too thick.
After 5 minutes, add the Pav bhaji masala.
Mix well.
Cook covered for 2-3 minutes.
Garnish with the coriander leaves.
For Toasting the bread
Apply butter on the Pav and toast them on frying pan.
Serve this hot Pav Bhaji.
Pav Bhaji is Healthy and also contain carbohydrates, proteins, and vitamins.
Also Read Marathi Dish - Vada Pav Recipe
By Meghna
This Recipe Rate :
(0) Reviews