Delicious Fish Fry Green Masala Recipe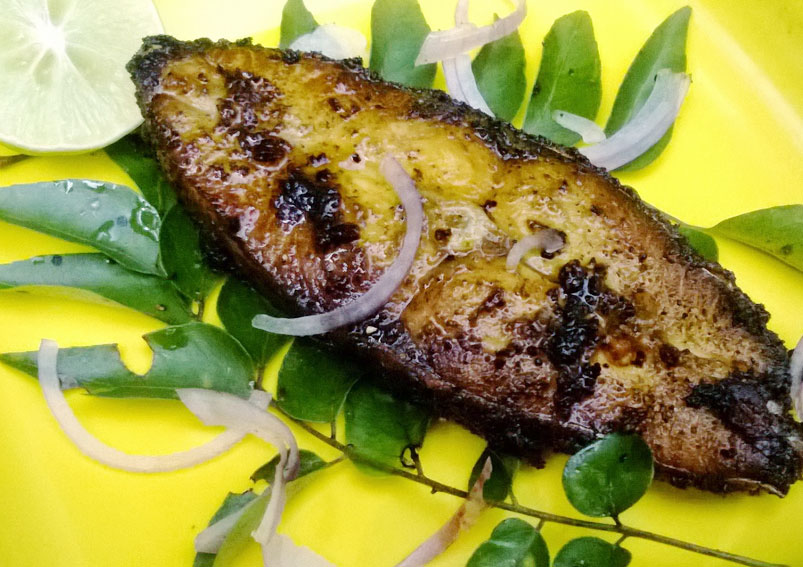 Are you bore of having regular Fish dishes? So try this Fish Fry Green Masala recipe yields tender fish bites with a dominant flavor of species.
Ingredients
2 tbspoil for shallow frying
6fresh

fish

fillets ( any fish can be used)
125 gmginger
1garlic bulb
3green chilies
1 smallonion Or one shallot
1 cupchopped coriander leaves
7 to 8mint leaves
saltas per taste
2 tbspslightly roasted semolina
2 tbspwheat flour
1lime and few chopped onion rings for garnishing
Directions
Combine coriander leaves, onion, ginger, garlic, mint leaves, onion, chilies and salt in a processor.
Grind until a smooth paste.
Wash the fish now apply the green masala over both the sides of fish.
Freeze for 15 min.
Mix roasted semolina + flour into a bowl.
Place oil in a frying pan on high flame.
Once the oil is hot, reduce the heat to medium flame.
Sprinkle them over one side of fish.
Flip the semolina flour coated fish over oil.
Sprinkle the mixture over the rest of fish on both sides.
Shallow fry from both sides until crisp and golden brown in color.
Garnish with lime wedges and onion rings.
Serve the fried fish hot.
Also, Read Healthy Dahi Chicken recipe
By Meghna
This Recipe Rate :
(0) Reviews