Recipe of Medu Vada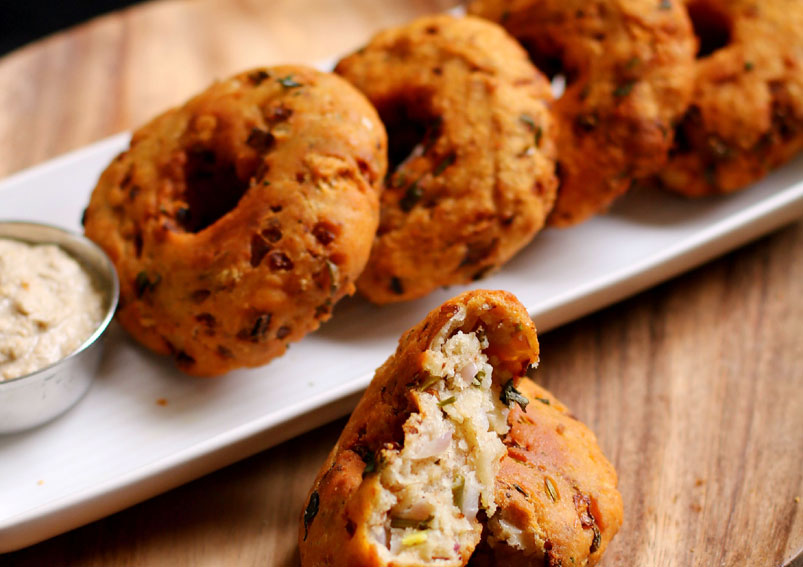 Medu Vada is a traditional South Indian dish which can be served as a side dish, or snack. This crispy, delicious Vada is made with spiced Urad dal batter and fried.They are served with sambar and coconut chutney.
Ingredients
1 cupsof Urad dal or Uddina Bele or Black gram
1/4 cupof Chana dal or Kadale Bele or Bengal gram
3 tbspRice flour
2-3Green chilies
2-3Dry chopped coconut
1 tspCurry leaves
1 cupChopped coriander leaves
1 inchGinger (finely chopped)
Pinchof Hing
Saltto taste
Oilto fry
Directions
Wash and soak Urad dal and Chana dal in about 3 cups of water for about 2-3 hours.
Drain all the water from soakedUrad dal and Chana dal.
Grind Urad dal and Chana dal together to smooth paste using very little water.
The batter should be thick and use very little water, the batter should be in the right consistency that is very important or otherwise, you will not be able to get proper shape of the Vada.
Add coriander, green chili, ginger and chopped dry coconut to the batter.
Mix it well.
Add 2-3 tsp of rice flour (rice flour is added to make it crispy).
Add a pinch of hing (to make it more digestible).
Heat the oil in a frying pan in medium flame, wet your palms and take a lemon size batter.
Make a hole in the center of the Vada and slide it into the hot oil.
Vada should float on top of oil.
Make sure your oil is not too hot, otherwise, the Vada would not cook evenly.
Fry on both sides till it becomes golden brown in color.
Notes:
Medu Vada batter should be thick
Once the batter is grind, prepare the Vada immediately and do not leave it to ferment.
2-3 hours of soaking is enough for Urad dal.
Overnight soaking is not required.
Also Read Best Dahi Vada Recipe – Perugu Garelu Recipe
By Meghna
This Recipe Rate :
(0) Reviews