Homemade Pizza Base Recipe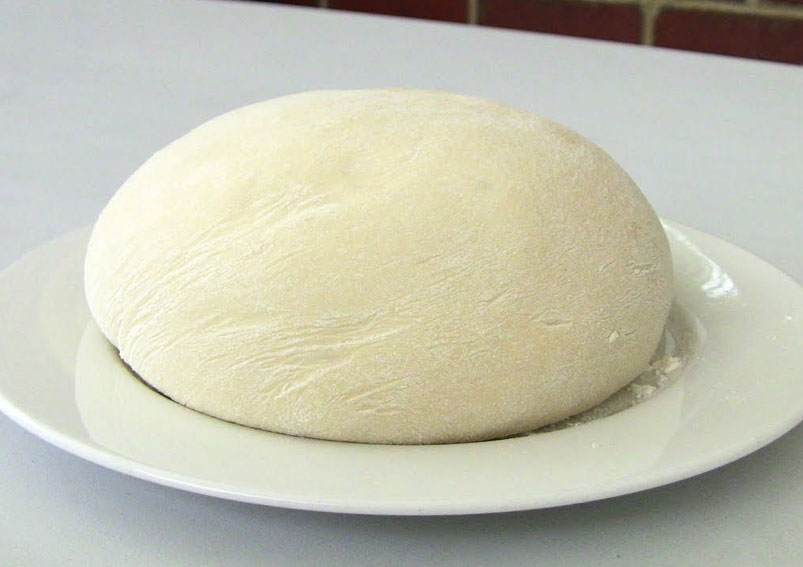 Once you try Homemade pizza base, you will notice the difference between Store bought base and the homemade base. Homemade pizza is also healthy, fresh and hygienic. It is also easy to prepare.
Ingredients
2 cupplain flour (maida)
1 tspdry yeast
1 tbspolive oil
1 tspsugar
As per requirementsalt to taste
As per requirementPlain flour (maida) for rolling
As per requirementOlive oil for kneading
2 tspWater
Directions
Combine 2 tbsp of lukewarm water and dry yeast in a small bowl and mix well.
Cover with a lid, and then put it aside for 5 minutes.
Combine the plain flour, olive oil, yeast-water mixture, salt and sugar in a deep bowl and knead into a soft dough using enough water.
Cover the dough with a wet muslin cloth and put it aside for an hour (1 hour).
Press the dough lightly to remove the air, now divide the prepared dough into three equal portions.
Roll each portion into a 175 mm. (7") diameter circle with the help of plain flour and prick each circle evenly using a fork.
Place all the 3 pizza base on a baking tray and bake in a per-heated oven at 180°c (360°f) for 5 minutes.
Notes

At the last step (step 7), while rolling a portion of the dough, keep the other 2 portions covered with the wet muslin cloth so that they do not dry up.

The Pizza Base dough should be knead very well. Then, only you will get a nice soft pizza base.
Also Read Tasty Whole Wheat Pizza Recipe at Home

By Meghna
This Recipe Rate :
(0) Reviews