Chettinad Chicken Recipe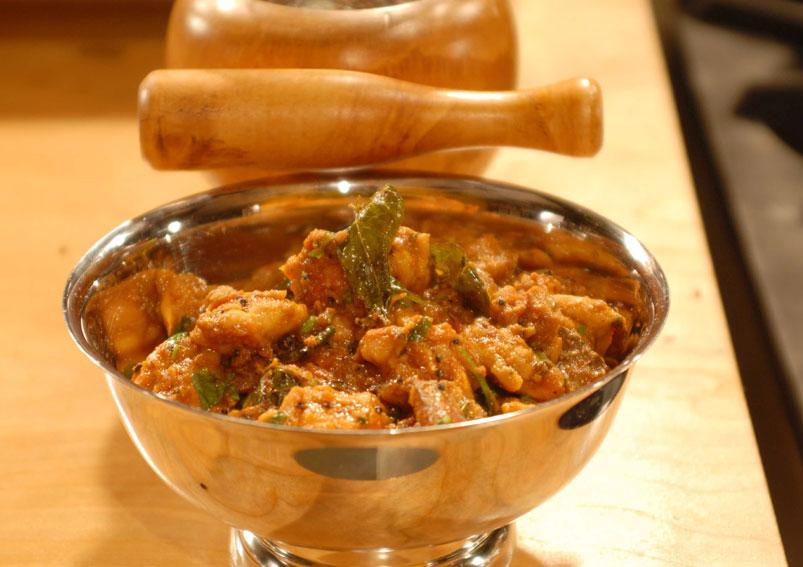 Chettinad Chicken is one of the most flavorful chicken Dishes from the south Indian Cuisine. This curry has lots of freshly roasted spices and coconut. This spicy chicken preparation is delicious
Ingredients
1kgChicken
2 tspPoppy seeds
1/2 cupGrated coconut
1 tspFennel seeds
1 tspCoriander seeds
1/2 tspCumin seeds
6-8Whole red chilies
1stick Cinnamon
3Green cardamom
2Cloves
1/2 tspTurmeric powder
1Onion, large
2 tspGinger, chopped
2 tspGarlic chopped
1/2Star anise
1 tspRed chili powder
3Tomatoes, medium
1Lemon
10-12Curry leaves
2 tspFresh chopped coriander for Garnish
1/2 cupOil
SaltTo Taste
Directions
Clean the chicken, remove the skin and cut into small pieces.
Chop the onions and tomatoes separately.
Roast the whole red chilies, grated coconut, poppy seeds, coriander seeds, cumin seeds, green cardamom, cloves, cinnamon, star anise, fennel seeds in oil and grind to a paste along with ginger and garlic.
Heat oil in a vessel and fry the onions till golden, then add curry leaves and the ground paste and saute for some time.
Add the tomatoes, red chili powder and turmeric powder and saute.
Add the chicken, mix and cook for 5 minutes and then add 2 cups of water and lemon juice.
Cover and cook till the chicken is soft.
Garnished with coriander leaves.
Serve it with boiled rice, roti or tandoori naan.
Also Read,Healthy Dahi Chicken recipe
By Meghna
This Recipe Rate :
(0) Reviews