Healthy Vegetable Egg Muffin Recipe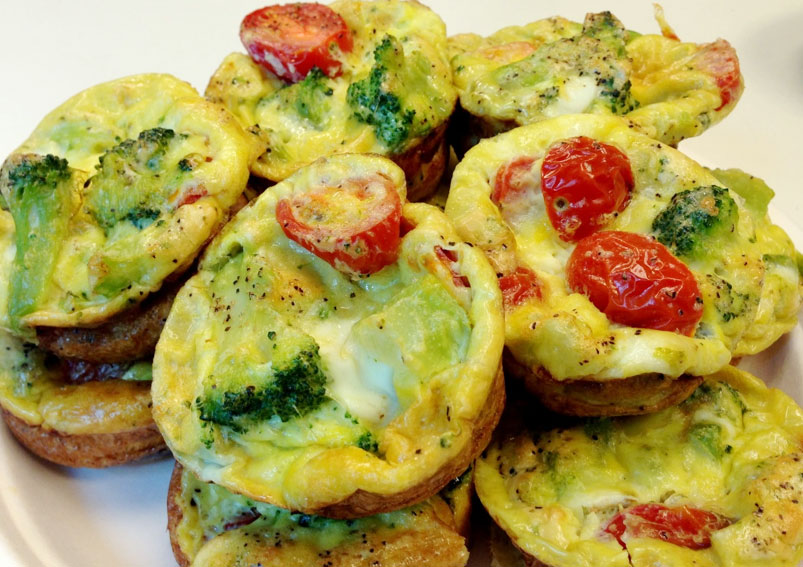 Enjoy a healthy, quick and easy recipe of Vegetable Egg Muffin. This muffin is loaded with fresh vegetables and also contains protein and vitamins. Here is the healthy recipe.
Ingredients
1 Tbspolive oil
½onion, finely chopped
2cloves garlic, minced
½zucchini, shredded
1red bell pepper, chopped
8large

eggs

2 cupsarugula( Rocket Salad), roughly chopped
¼ cupshredded Parmesan cheese
Salt and pepperto taste
Directions
Preheat oven to 375 degrees F.
Grease a muffin tin with oil and set it aside.
In a large skillet over medium heat, drizzle olive oil and saute onion and garlic for about 4 minutes until tender and fragrant.
Add in zucchini and red bell pepper, cook for 2 minutes.
Fill each muffin tin about ? full with veggie mixture.
In a bowl, whisk together eggs, arugula, cheese and salt/pepper and fill this mixture in each muffin tin evenly, be careful not to over-fill.
Bake the muffins for about 20 minutes until they have risen and are slightly browned.
Also Read Best Masala Omelet Recipe
By Meghna
This Recipe Rate :
(0) Reviews