Nacho Chips Recipe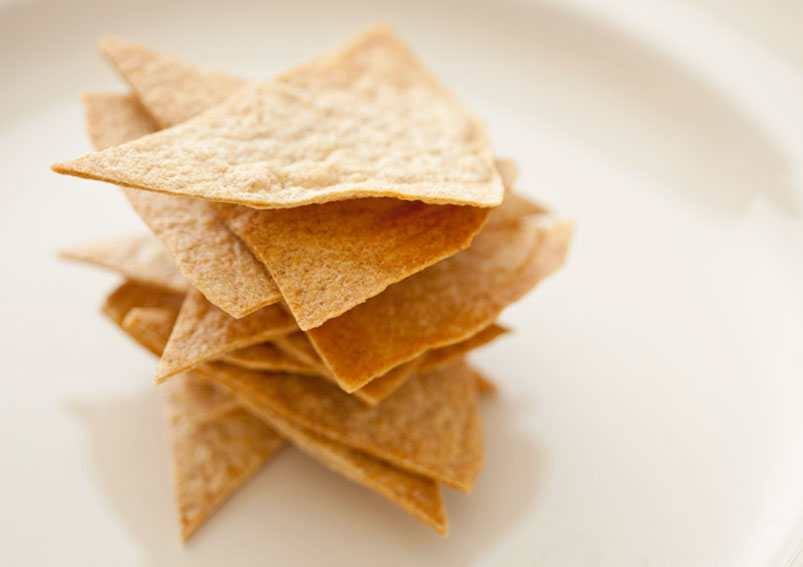 Nacho Chips is a popular snack from Mexican Cuisine. The crispy Nacho Chips are often served with different sauces but you can enjoy it simply. Let's follow this interesting recipe.
Ingredients
3/4 cupmaize flour (makai ka atta)
5 tbspplain flour (maida)
2 tspoil
1/4 tspcarom seeds (ajwain)
1/2 tspdried oregano
1 tspto taste
2 Pinch ofplain flour (maida) for rolling
oil fordeep-frying
Directions
In a bowl add maize flour, plain flour 2 tsp oil,1/4 tsp carom seeds, dried oregano and salt.
Mix well and knead into a soft dough using enough water.
Divide the dough into 3 equal portions.
Roll a portion into a 250 mm. (10") diameter circle using a little plain flour for rolling and pick it evenly with a fork.
Cut into 16 equal triangles and put it aside.
Heat the oil in a deep non-stick kadhai and deep-fry, a few chips at a time, on a medium flame till they turn crisp and golden brown in color from both the sides.
Drain on an absorbent paper.
Cool and store in an air-tight container.
Enjoy the crispy Nacho Chips with your favorite sauce.
Also, Read Homemade Baked Potato Chips Recipe
BY Meghna Nath
This Recipe Rate :
(0) Reviews