Cabbage and Shrimp Fry Recipe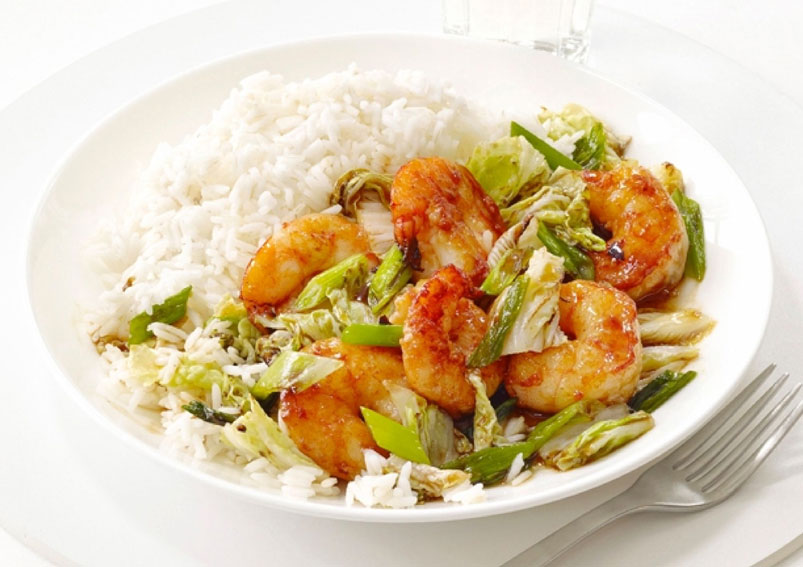 Cabbage and Shrimp fry is a colorful and delicious dish seasoned with aromatic spices. This dish contains nutritious value. A delicious side dish to accompany with any meal.Follow this recipe.
Ingredients
1large egg white
1 tablespoon plus 2 teaspoonscornstarch
1 tablespoon plus 1 teaspoonsoy sauce
1 1/4 poundsmedium shrimp, peeled and deveined
2 teaspoonshoisin sauce
1 1/2 teaspoonssherry vinegar or rice wine vinegar
1/2 cuplow-sodium chicken broth or water
2 tablespoonsvegetable oil
4scallions, cut into 1/2-inch pieces, white and green parts separated
1 tablespoonfinely grated peeled ginger
1 clovegarlic, finely grated
1 pound

Napa cabbage

(1/2 head), cut into 1-inch pieces
Cooked white ricefor serving (optional)
Directions
Whisk the egg white, 1 tablespoon cornstarch and 1 teaspoon soya sauce in a large bowl until frothy.
Add the shrimp in the egg mixture and toss it nicely.
Refrigerate the the shrimp for 10 minutes.
Meanwhile, whisk the hoisin sauce, vinegar and the 1 tablespoon soya sauce and 2 teaspoons cornstarch in a bowl and add the chicken broth.
Whisk it and set it aside.
Drain the shrimp from the egg mixture.
Heat the vegetable oil in a wok or large skillet over medium-high heat, then stir-fry the scallion whites, ginger and garlic, for 30 seconds.
Add the shrimp and stir-fry until almost cooked through, about 3 minutes.
Add the cabbage and stir-fry until wilted and the shrimp are just cooked.
Cook for 2 min.
Add the hoisin sauce mixture to the wok.
Cook in a low flame and stir occasionally.
Add in the scallion greens.
Serve with rice, if want to.
Also, Read Side Dish

By Meghna
This Recipe Rate :
(0) Reviews