Yummy Cheesy Vegetable Pasta Recipe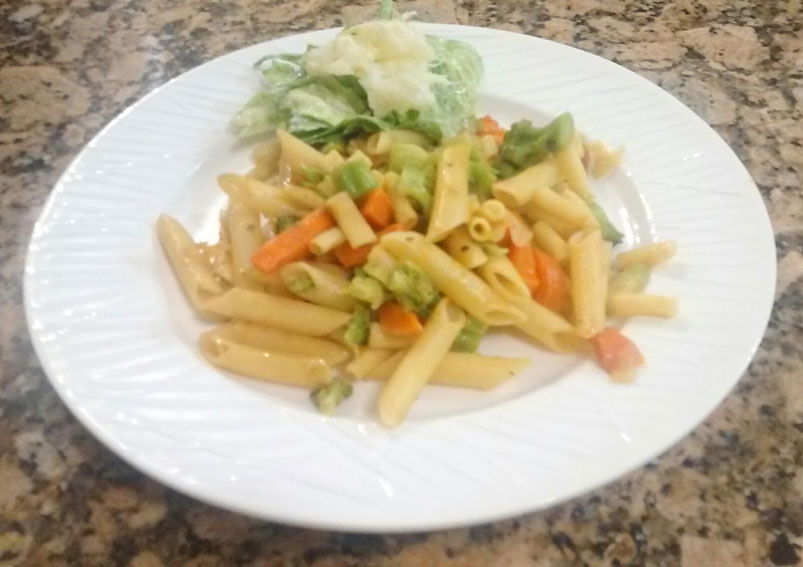 An easy recipe for Cheesy Vegetable Pasta. This Pasta recipe is a delicious cheesy pasta recipe tossed with cheese and herbs. Kids simply love this pasta and so do the adults. Serve this smooth and delightful recipe on any occasion.
Ingredients
2 cupscooked pasta (penne, macaroni or fusilli)
1onion, sliced
1 tbspchopped celery
1/2 cupcapsicum, sliced
1 cupboiled mixed vegetables(any vegetable of your choice)
3/4 cupmilk
3cheese slices ( or 1/2 cup grated processed cheese)
1/2 tspdried mixed herbs
1 tspbutter
salt and black pepperto taste
Directions
Heat the butter in a pan and saute the onion, celery, and capsicum for 2 minutes.
Add the milk and grated processed cheese and bring to a boil.
Add the vegetables, mixed herbs, salt, and pepper and mix well.
Toss the cooked pasta in the sauce and bring to a boil.
Serve hot with toast or garlic bread.
Notes:
Approximately 1¼ cups of dried pasta will yield 2 cups of cooked pasta.
Also, Read Spicy Pasta Indian Style Recipe
BY Meghna Nath
This Recipe Rate :
(0) Reviews