Crispy Vegetables and Tofu Recipe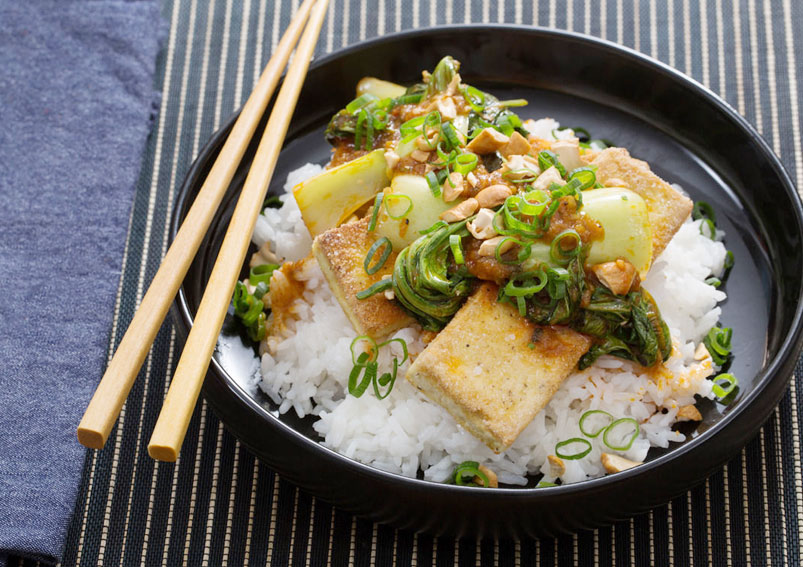 Tofu or Soya bean curd is made from soya beans and is very high in protein content. It is healthy and delicious.This Crispy Vegetables and Tofu dish contain protein, vitamins, and iron. So try this healthy and tasty recipe.
Ingredients
1/4 cupbaby corn,cut into 1" pieces
1/2 cupbroccoli florets
1/2 cupcauliflower florets
1/4 cupcapsicum cubes
1 cuptofu (bean curd/ soya paneer) cubes
10-12almond (badam) slivers
1/2 cuptomato ketchup
1/4 cupchili sauce
2 tspsoy sauce
1 cupcornflour
3 tbspoil
saltto taste
Other Ingredients:
For The Garnish:
1/4 cupchopped coriander (dhania)
Directions
Make a batter by dissolving the cornflour in ½ cup of water and add salt and pepper to it.
Keep it aside.
Parboil the baby corn, broccoli and cauliflower in salted water.
Drain out all the water from the veggies.
Dip all the parboiled vegetables, capsicum and tofu in the prepared batter and deep-fry in hot oil till crisp.
Drain on absorbent paper and keep it aside.
Heat the oil in a wok and add the almonds.
Fry it on a high flame till they turn golden brown in color.
Add the tomato sauce, chili sauce, soya sauce, all the fried vegetables, and salt.
Toss it well.
Garnish with chopped coriander.
Serve hot.
Tofu contains protein, calcium, vitamin and folic acid.
Also, read Best and Tasty Matar Masala Recipe
Health benefits of Tofu
By Meghna Nath
This Recipe Rate :
(0) Reviews