Healthy and tasty Chickpea Salad Recipe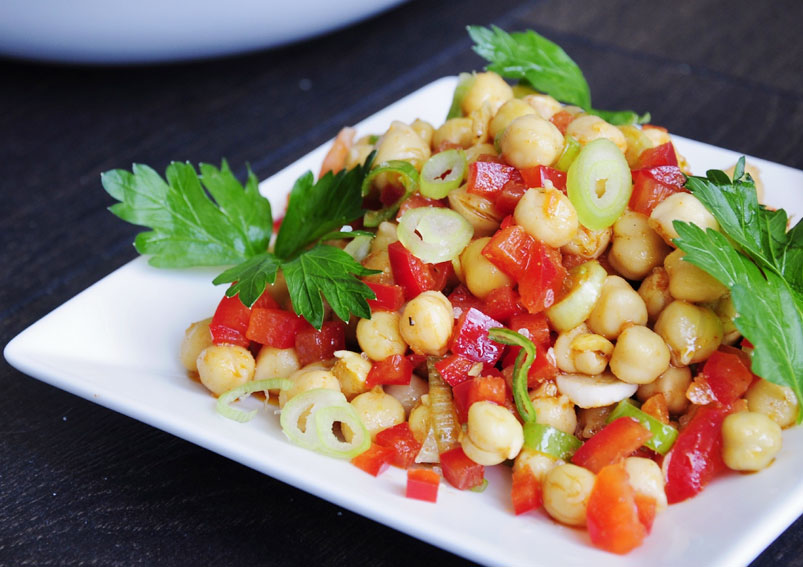 Chickpea Salad is nutritious and rich in iron, protein and folic acid. Celery and herb increase the taste of the salad. This colorful and tangy chickpea salad is very easy to make. Follow the recipe.
Ingredients
2(15-ounce) cans chickpeas, rinsed and drained
1 smallred onion finely chopped
1 smallred bell pepper, finely chopped
A fewribs celery and leafy tops, chopped
1 clovegarlic, minced or grated then blend into a paste with salt
1/2 teaspooncrushed red pepper flakes
2 tablespoonsrosemary, finely chopped, a few sprigs
2 tablespoonsred wine vinegar
3 tablespoonsextra-virgin olive oil
Salt and freshlyground black pepper
Directions
In a bowl add chickpeas with onions, peppers, celery, garlic, red pepper flakes and rosemary.
Mix it well.
Drizzle vinegar, olive oil, salt, and pepper to the chickpea mixture.
Mix well and serve them in a bowl.
Chickpea is very good for health, so include it in your diet.
Also, Read Bean Sprouts Salad Recipe
BY Meghna Nath
This Recipe Rate :
(0) Reviews