Authentic Mutton Korma Recipe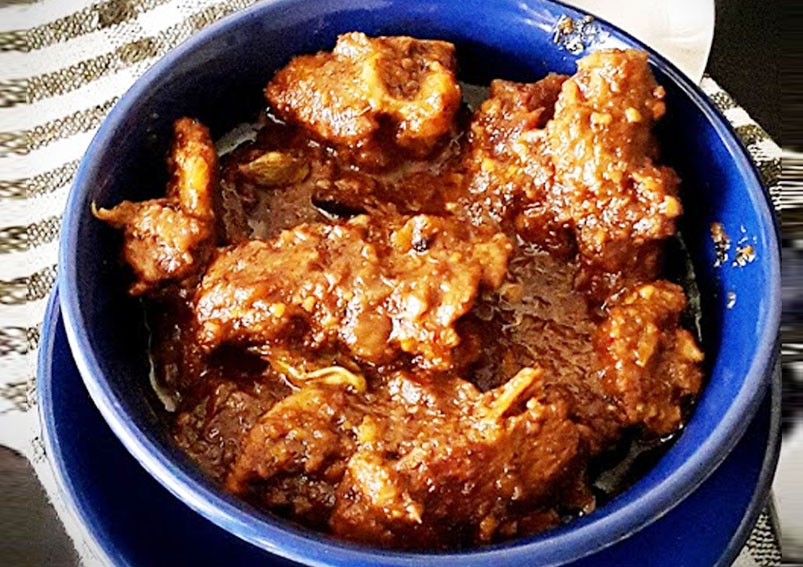 Mutton Korma is a mouth- watering Mutton dish. This Korma recipe is a shahi recipe made with mutton and curd. It is full of rich and tasty ingredients. This mutton recipe goes well with pulao or plain cooked rice.
Ingredients
1/2bowl of Oil
1Finely Sliced Onion
700 gm

Mutton

3-4Curd
1bowl of water
1 Tbspto taste
2 TspCoriander Powder
1 TspRed Chili Powder
1 TspRoughly chopped Garlic
1 TspRoughly chopped Ginger
3-4Cloves
2-3Whole Green Cardamom
2-3Cinnamon sticks
2 TspFried Onions Rings
Directions
Heat the oil in a deep pan add the finely sliced onions and lightly fry it.
Add the mutton, curd, salt, water, coriander powder, red chili powder and stir for a few minutes.
Add the garlic, ginger, cloves, green cardamom and the cinnamon sticks and mix well.
Cover it and cook on a low flame for about 30 min.
Add the fried onions and stir again.
Cover and cook for an hour or till mutton get tender.
Garnish with thin deep- fried onion rings and serve hot.
Also, Read Know How to Make Spicy Indian Mutton Curry
BY Meghna Nath
This Recipe Rate :
(0) Reviews