How To make Falafel Recipe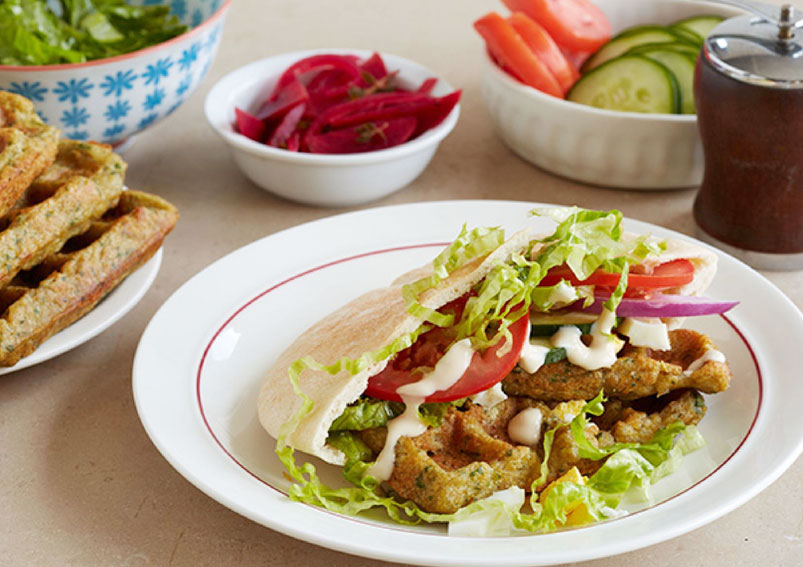 Falafel is a deep-fried balls or patties made from white chickpeas (kabuli chana). It is absolutely wonderful and awesome snack. This recipe is the easiest and reliable method to make Falafel.
Ingredients
For the pita bread
1 cupwhole wheat flour (gehun ka atta)
1 tspcrumbled fresh yeast
1 tbspsugar
1 tbspoil
1/2 tspsalt
For the dressing
6 tbspcurd (dahi)
2garlic cloves, chopped
1/4 cupchopped spring onion greens
a pinchof sugar
saltto taste
Other ingredients
oilfor deep-frying
1/2 cupthinly sliced tomatoes
1 cupshredded lettuce
Directions
For the pita bread
Add all the ingredients except the oil in a bowl and using enough water, knead into a soft dough until it is smooth and elastic (approx. 5 to 7 minutes).
Add the oil and knead again.
Cover the dough with a wet muslin cloth and allow it to prove till it doubles in volume (approx. 15 to 20 minutes).
Press the dough lightly to remove air and divide into six equal parts.
Roll out each portion into a circle of 150 mm. (6") in diameter and 4 mm. (1/6") thickness.
Cook the bread on a hot tava (griddle) on each side for a minute or until the bread puffs up.
Remove and keep it aside.
Cut each pita bread into 2 halves and keep it aside.
For the dressing
Blend curd, garlic cloves, spring onion greens, sugar, salt in a mixer to get a smooth sauce and keep it refrigerated.
For the patties
Combine the kabuli chana, green chilies, and mint and blend in the mixer into a coarse paste without using water.
Add carrot, capsicum, cumin seeds and garlic and mix well.
Divide the mixture into 12 equal parts and shape them into patties.
Deep-fry the patties in hot oil till golden brown in color.
Drain on absorbent paper and keep it aside.
How to proceed
Warm the pita bread halves on a hot (tava) griddle.
Fill each pita bread half with some tomato slices and shredded lettuce, one patty and a spoonful of the dressing on top.
Serve the Falafel.
Also, Read Crispy Thattai Recipe
By Meghna Nath
This Recipe Rate :
(0) Reviews