Gobi Paratha Recipe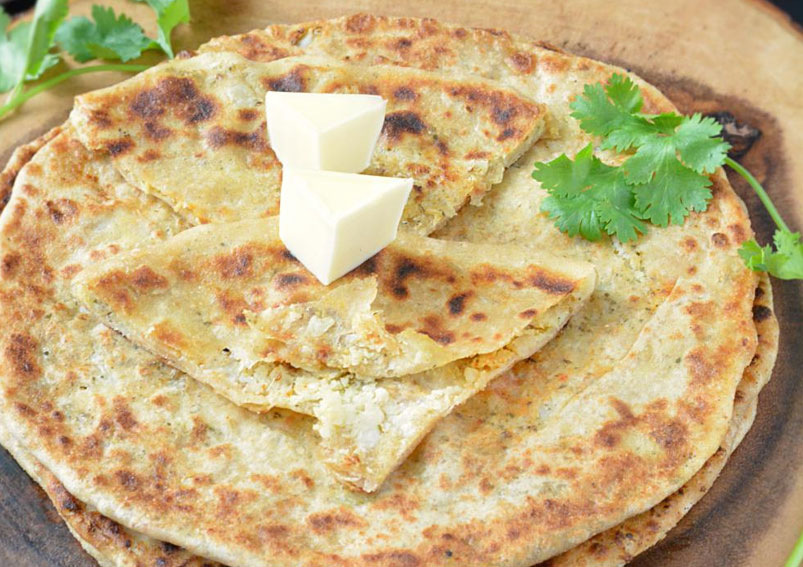 Gobi Ka Paratha is absolutely a delicious Paratha recipe. It is one of the most popular Parathas in North India. These Parathas are stuffed with grated cauliflower (gobi). Gobi Paratha is typically served for breakfast in many households but they can be enjoyed at any time, for breakfast, lunch or dinner. With this awesome Gobi Paratha no other side dish is required except fresh curd and pickle.
Ingredients
For The Dough
1-1/2 cupsWhole Wheat Flour (gehun ka atta)
1 tspOil
Saltto Taste
Few Dropsof Water
For The Gobi Stuffing
1-1/2 cupsGrated Cauliflower(Gobi)
2 tspOil
1/2 tspCumin Seeds (jeera)
1/2 cupFinely Chopped Onions
1 tspFinely Chopped Green Chilies
Saltto Taste
1/4 cupFinely Chopped Coriander (dhania)
Other Ingredients
Whole Wheat Flour(gehun ka atta) for rolling
Gheefor Cooking
Directions
For the dough
Mix whole wheat flour, oil and salt in a deep bowl and knead into a soft dough using enough water.
For the gobi stuffing
Heat the oil in a broad non-stick pan and add the cumin seeds.
When the cumin seeds crackle, add the onions and green chilies and saute on a medium flame for 30 seconds.
Add the cauliflower and salt and saute on a medium flame for 1 to 2 minutes.
Add 4 tbsp of water, mix well and cook on a medium flame for 3 to 4 minutes.
Stir occasionally.
Add the coriander and mix well. Keep it aside.
Divide the Gobi stuffing into 5 equal portions and put it aside.
How to proceed
Divide the dough into 5 equal portions.
Roll out a portion of the dough into a 100 mm. (4") diameter circle using a little whole wheat flour for rolling.
Place one portion of the gobi stuffing in the center of the dough circle.
Bring together all the sides in the center and seal tightly.
Roll out again into a circle of 175 mm. (7") in diameter using whole wheat flour for rolling.
Heat a non-stick tava (griddle) and cook the Paratha on a medium flame, brush little ghee, till golden brown spots appear on both the sides of the Paratha.
Serve it fresh curd and pickle.
Also, Read Stuffed Aloo Cabbage Paratha Recipe
BY Meghna Nath
This Recipe Rate :
(0) Reviews