Spicy Aloo Tikki Recipe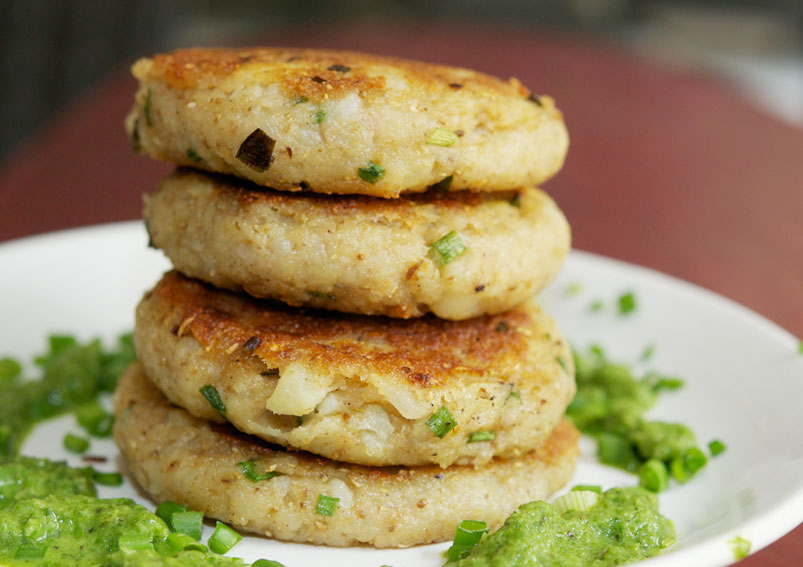 Aloo Tikki with crispy outer layer and soft inside is a real treat to taste buds at any time. It is so delicious that is loved by all. This simple and easy recipe is shallow fried. Aloo Tikki can be good evening tea time snack. Know how to make Aloo Tikki recipe.
Ingredients
4 Medium Size

Potatoes

(Aloo), boiled and peeled
1/2 tspCoriander Seeds
1/2 tspPeppercorns
1/2 tspCumin Seeds
1/2 cupPeas, Boiled
Sea Saltto Taste
2 tspGinger Paste
100 mlRefined Oil
1Onion, Julienne
2 scoopsGreen Chili, Chopped
A Small BunchFresh Coriander
1/2 tspRed Chili Powder
Directions
Dry roast coriander seeds, pepper, and cumin in a pan.
vPowder the dry roasted spices into mortar and pestle and keep it aside.
In a bowl mash potatoes and mash half a cup of peas.
Mix potato mixture and pea mixture in a bowl.
Add 2 tsp of ginger paste to the potato and pea mixture.
In a pan, saute one onion (julienne) with refined oil and add them into aloo mixture.
Add a little salt, roasted masala spice, green chilly, fresh coriander and red chili powder into aloo tikki mixture.
Mix it well.
Add 1/2 tsp oil for some moisture.
Take a portion of aloo tikki mixture and make a ball out of it and gently flatten them into a round shape. Keep them in a fridge for 30 minutes.
Sprinkle some flour on them.
In a pan, shallow fry the aloo tikki with refined oil.
Serve it hot.
Also, Read Aachari Paneer Tikkas - Indian Food Recipe
By Meghna Nath
This Recipe Rate :
(0) Reviews